Nick Harris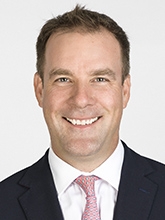 Chief Executive Officer - Pacific
Nick Harris leads the Marsh business in Pacific, which encompasses Australia, New Zealand, Fiji and Papua New Guinea. In this role, Nick is responsible for all aspects of Marsh's Pacific operations.
Nick has more than 20 years' experience in the insurance industry, working in both insurance and broking across the United Kingdom and Australia.
Prior to his appointment as CEO of Marsh Pacific, Nick was CEO of JLT Australia and New Zealand. He has held senior roles in specialty, employee health and benefits, and affinity. As CEO of Specialty Nick established a structure that removed silos bringing specialties together with other business areas to support the delivery of broader risk offers to benefit clients. He has also served as Chairman of Benefit Solutions Australia.
Under Nick's leadership, JLT established and developed Australia's largest employee benefits consultancy and people risk service provider. This brought together more than 350 highly talented professionals, servicing the people risk needs of businesses of all sizes and across all industries.