Marsh is the world's largest risk management and insurance broker.  We help organisations of all shapes and sizes be 'Risk Ready' – empowering confidence, growth and prosperity in our community.
With Marsh's acquisition of JLT in 2019, Marsh continues to build on the long-term partnership with the AFL, started by JLT in 2004.
Marsh plays a crucial role in protecting and empowering the AFL community, ensuring a safe, enjoyable platform for hundreds of thousands of spectators, officials and players young and old, around Australia.

Marsh is currently working with the Western Districts Community Sports Club on their road to recovery, as well as multiple organisations across Kangaroo Island affected by fire.

As the Official Risk Partner of the AFL, Marsh is also helping clubs get back on their feet by raising funds for the AFL Community Relief Fund.
Team Marsh out in full force for the bushfire rebuild.
We've also donated our insurance broking services to secure insurance coverage for athletes playing in the AFL State of Origin match for Bushfire Relief, held at Marvel Stadium on Friday 28 February 2020. 
Did you know? Many of Australia's volunteer firefighters and first responders to the bushfire crisis are supported to undertake these heroic acts through insurance deals and schemes which Marsh has directly brokered.
The 2020 Marsh Community Series, AFL's pre-season, is about celebrating the football and business community around the AFL; the local clubs, people, councils and businesses who support and love the game. We're proud to take the game back to regional and suburban areas and give fans the opportunity to see the elite players up close, whilst giving players a platform to prepare for the season ahead. 
Acknowledging Community Heroes
As a mark of respect and acknowledgement, local Emergency Service representatives from across the country who assisted in the bushfire crisis were invited toss the coin at each of the 2020 Marsh Community Series games.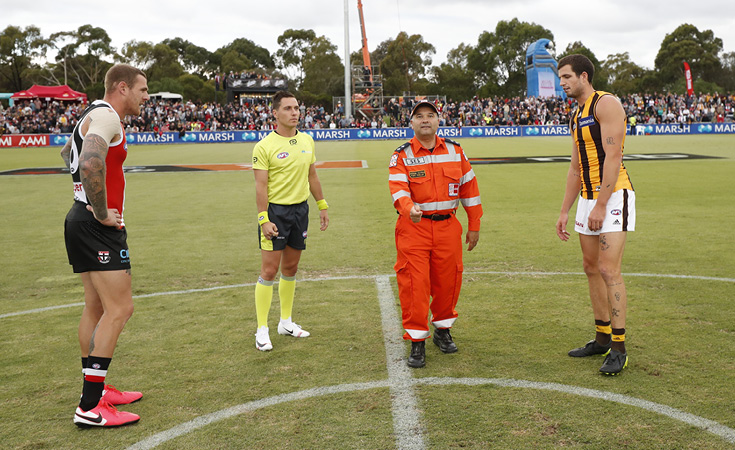 George Katris before the first siren sounded. Photo credit: AFL Media

George Katris is a 20 year State Emergency Service volunteer who recently led a six-day taskforce deployment during the peak of the bushfire disaster. In honour of his bravery, spirit and sacrifice, we invited George on-field to toss the coin before the first siren sounded for the 2020 Marsh Community Series.

Kicking goals for local clubs
The Marsh Community Series is all about protecting and empowering the local AFL clubs we work with, right in their very own home town. This series we are having a little fun on the big stage; giving kids an unforgetable experience and challenge their skills to win equipment for their local clubs.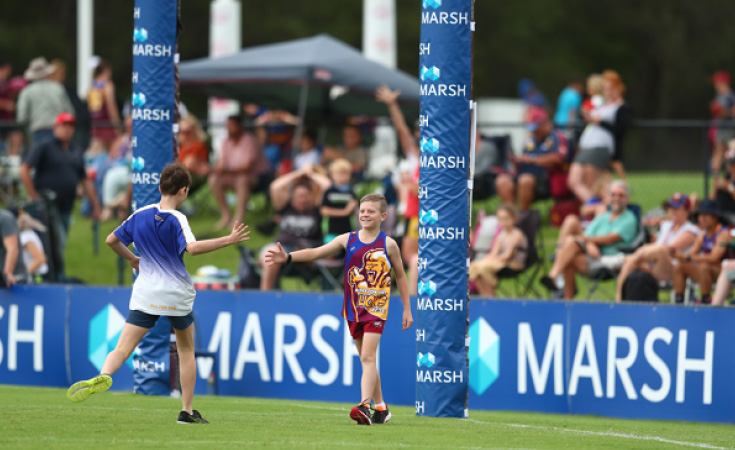 Rewarding local clubs for their hard work. We're proud to protect the future stars of the game.
Protecting the AFL Community
As the national insurance broker for the AFL, we help to protect the entire AFL community; 18 elite AFL clubs, State Associations and Leagues, 96% of community football clubs and players, every NAB Auskick participant and community centre, over 450 Councils and local footy grounds and businesses across Australia.
In partnership with the AFL, we use data and tools to constantly anticipate and mitigate evolving risk. Our National Risk Protection Program is keeping future stars in the game and creating a pathway to a safer game for all.
Are you Risk Ready?
Whether it's on the sporting field, or around the boardroom table, we're all taking risks to grow stronger and be our best. Understanding how to prepare and manage risks in any situation, to support and empower your goals, is our goal at Marsh.