It's hard to think of a more challenging year in recent memory. The resilience and the power of our community has been tested. Five months ago, a 2020 Toyota AFL Grand Final seemed unimaginable. We believe in possibility and are proud to have played our part by working with the AFL and its community to ensure players, teams and the businesses who support the game can play on.
As the world's largest risk management and insurance broker, we help businesses - including SMEs and ASX listed companies - grow and thrive, by protecting and promoting possibility. In our increasingly volatile and uncertain world, this has never been more important. 
Since 2004, we have partnered with the AFL to help protect and empower the AFL community and assist in creating a safe, enjoyable platform for hundreds of thousands of spectators, officials and players young and old, around Australia.
Protecting the AFL community

Marsh is proud to support organisations and communities affected by bushfires across Australia.
As the national insurance broker for the AFL, we help to protect the AFL community; COVID Safety Officers; 18 elite AFL clubs; AFLW, State Associations and Leagues; 96% of community football clubs and players; every NAB Auskick participant and community centre; over 450 Councils and local footy grounds and businesses across Australia. 
In partnership with the AFL, we use data and tools to constantly anticipate and mitigate evolving risk. Our National Risk Protection Program is keeping future stars in the game and creating a pathway to a safer game for all. 
Learn more about how Marsh helps protect the future stars of the game.
The 2020 Marsh Community Series, AFL's pre-season, celebrates the football and business community around AFL; the local clubs, people, councils and businesses who support and love the game. 
Taking the game back to regional areas like Whyalla, and giving players the platform to prepare for the season ahead:
Acknowledging community heroes during the Australian bushfires
As a mark of respect and acknowledgement, local Emergency Services representatives from across the country who assisted in the bushfire crisis tossed the coin at each of the 2020 Marsh Community Series games.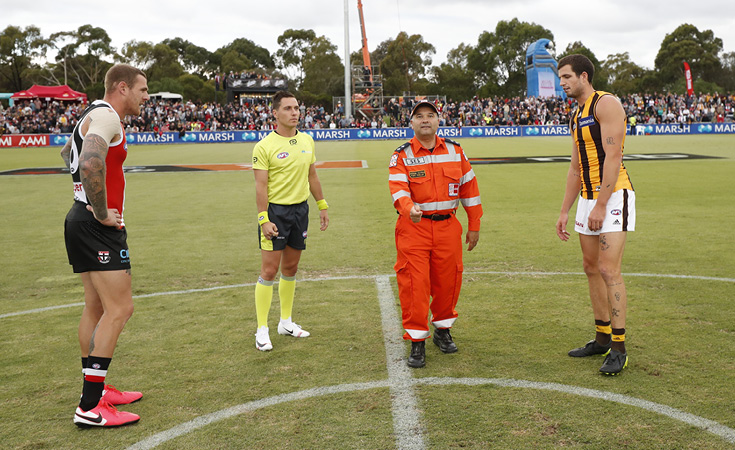 George Katris before the first siren sounded. Photo credit: AFL Media

George Katris is a 20 year State Emergency Service volunteer who recently led a six-day taskforce deployment during the peak of the bushfire disaster. In honour of his bravery, spirit and sacrifice, we invited George on-field to toss the coin before the first siren sounded for the 2020 Marsh Community Series.

Kicking goals for local AFL clubs
The Marsh Community Series is all about protecting and empowering the clubs we work with. We gave kids an unforgettable experience by challenging their skills to win equipment for their local club.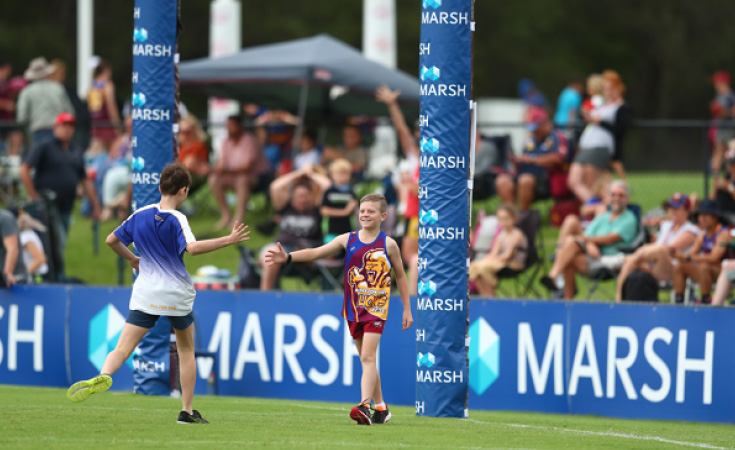 Rewarding local clubs for their hard work. We're proud to protect the future stars of the game.
Supporting Australian bushfire affected communities
St Kilda are competing in the 2020 Toyota AFL Final Series for the first time in almost a decade. Their story of resilience started with the devastating bushfires in early 2020, which impacted communities like Kangaroo Island. In support of the bushfire rebuild, Marsh funded a special trip for St Kilda to visit our client Western Districts Community Sports Club, to lift their spirits on their road to recovery. 
Did you know? Many of Australia's volunteer firefighters and first responders to the bushfire crisis are supported to undertake these heroic acts through insurance deals and schemes which Marsh has directly brokered.
COVID-19 risk management insights to help you, your club, your business and your community play on
COVID-19 is affecting the entire world, from local communities and businesses to global enterprises and governments. We have drawn on Marsh risk management experts locally and from around the world to offer insights, guidance and information to help you stay informed on what this global pandemic means for you, your organisation, or your sporting club. 
Whether it's on the sporting field, or around the boardroom table, we're all taking calculated risks to grow stronger and open up a world of possibilities, even in the toughest of times. Understanding how to prepare and manage risks in any situation, to enable you to achieve what's possible, is our goal at Marsh.
Sports, Events and Entertainment 
Recovery for sporting and entertainment organisations 
Guiding a safe return to sport following COVID-19 lockdown 
COVID-19 and the changing risk landscape for events 
Mental Health and Remote Working 
The business of mental health in a remote working world
Simple Steps for Employers to Reduce Their Employees' Stress at Home 
How safe is our new working from home environment? 
Cyber Risk and Security 
Is your organisation at risk from a COVID-19 scam? 
COVID-19: Cybersecurity Checklist for Remote Working 
Security Tips for Remote Working 
For Businesses
Face masks: your responsibilities as an employer
Five key elements of an effective COVID-19 Risk Assessment 
COVID-19 Brief: Lessons Learnt, Emerging Risks & Planning Ahead 
How Coronavirus Will Help Build the Workforce of the Future 
Retail and hospitality: Taking practical action in the face of COVID-19
Asset Shutdown: Practical considerations for property owners & managers during COVID-19