Transactional Risk Insurance 2019: Year in Review
Marsh's Private Equity, Mergers and Acquisitions (PEMA) Practice reflects on the year that was in the latest edition of Transactional Risk Insurance: Year in Review.
Global Trends
As a snapshot, the value of global mergers and acquisitions (M&A) in 2019 was roughly US$3.3 trillion across 19,322 deals. Although slightly down from the previous year, this figure still represents the sixth consecutive year of deal values in excess of US$3 trillion. Not to mention, the placement of transactional risk insurance globally by Marsh JLT Specialty in 2019 was marked by accelerated growth, with substantial increase in both aggregate limits placed, up 51% and the number of insured transactions, up 26%.
Transactional risk insurance limits placed by Marsh JLT Specialty increased 51% year-over-year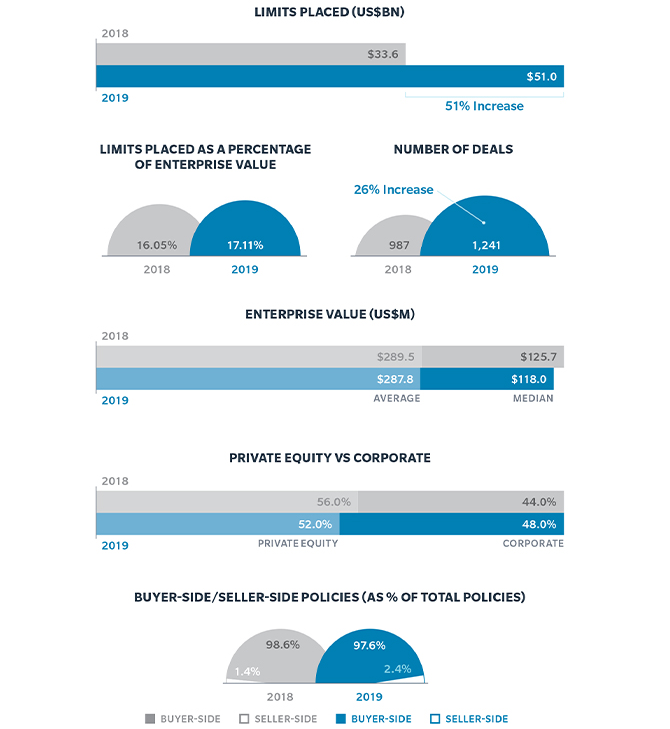 Globally, the market has seen transactional risk insurance capacity continue to expand with more than 30 insurers offering primary terms for coverage globally. Furthermore, limits placed by Marsh JLT specialty increased in 2019 by 51% from 2019, to US$50.9 billion.

Pacific Trends
In 2019, M&A deal value across the Pacific region decreased; however, Marsh JLT Specialty saw an increase in the number of Warranties and Indemnities (W&I) insured deals.  W&I Insurance generally remain strong in the region, as the product continues to be an integral tool for Australian and New Zealand dealmakers. 
Despite a decrease in the deal value of domestic (approximately 58%) and inbound deals (2.3%) the average limit purchase — as a percent of enterprise value — was nearly unchanged from the prior year at 28%.
M&A deal value decreased in the Pacific in 2019, though the number of W&I insured deals rose.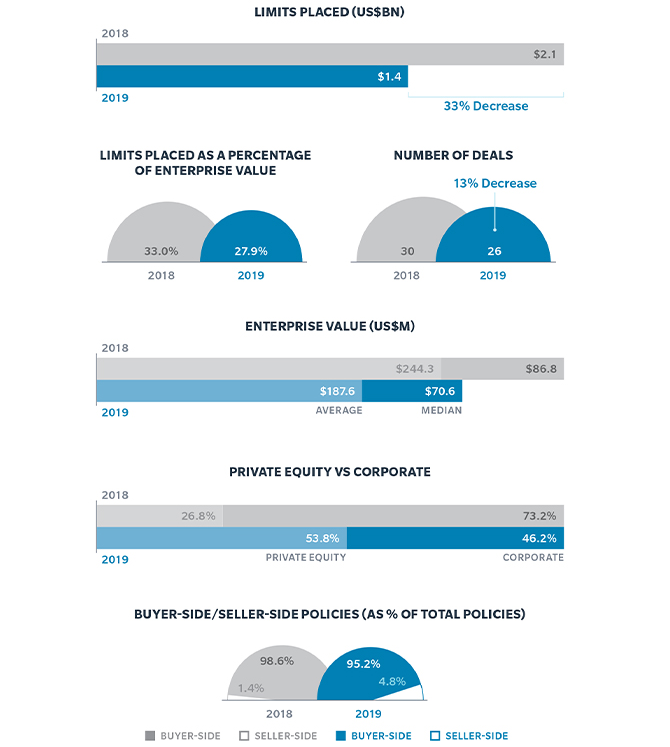 Chris McDermott, Marsh's Pacific PEMA Leader, also provides insights on notable 2019 trends for the region, including "sell-buy flip" which aims to make the W&I process more efficient and frictionless, increased capacity for non-traditional risks, increase in clients searching for more effective ways to mitigate tax risk and an increase in claims notifications.
For more information on these insights and to learn what this may mean, download the latest edition of Transactional Risk Insurance: Year in Review. You can also contact Chris McDermott from our PEMA team should you wish to understand what these trends might mean specifically for you.