Industrial Manslaughter in Australia: What you need to know
As of the 5th of December 2019, 152 Australian employees have lost their life at their place of work1. Not to mention, high profile and significantly publicised incidents, including the case at Eagle Farm Race Course, which saw two employees, lose their lives from a falling concrete slab, which was then followed by the Dreamworld event, which saw four patron fatalities as a result of a malfunctioning amusement ride only three weeks later. It is no surprise that there has been extensive discussion and calls for reform in Australia in the area of workplace health and safety, as well as for the introduction of industrial manslaughter legislation.
As a result, four Australian states and territories (ACT, QLD, NT and VIC) have passed industrial manslaughter legislation, with Western Australia projected to shortly follow suit. Earlier this year, former Executive Director of SafeWork SA also undertook a comprehensive national review of Australia's model Workplace Health and Safety laws and made 34 recommendations, including the introduction of new offences surrounding gross negligence and industrial manslaughter2.
What is industrial manslaughter?
Manslaughter is the unlawful killing of another human being, and each Australian State defines it slightly differently. Industrial manslaughter, however, allows a corporation to be held liable for the death of a person caused by that corporation's employees within the scope of their work, and is currently legislated for in the ACT, Queensland and the NT, with VIC legislation to come into effect on 1st July 2020.
History of industrial manslaughter in Australia
In 2002, the ACT was the first Australian jurisdiction to introduce industrial manslaughter legislation, which came into effect after extensive union lobbying. However, this legislation sits completely outside the WHS legal framework and is in addition to the category 1-3 offences under the model WHS laws. Despite introducing these laws well before other Australian jurisdictions, no prosecutions have been undertaken. In 2018 proceedings began in relation to an incident on a Canberra construction site,  however the matter is still pending and applicable penalties if any, are still yet to be determined3.
Queensland followed in late 2017, after two major high profile incidents led to an independent review in relation to Workplace Health and Safety in Queensland. The State then introduced amendments to the WHS Act 2011 Qld3. These amendments explicitly excluded a lack of intent as a defence against any related charges.
The first prosecution under these new industrial manslaughter laws in Queensland commenced on 25 October 2019 and is still ongoing. Brisbane Auto Recycling Pty Ltd has been charged with industrial manslaughter under section 34C of the Work Health and Safety Act 2011 (Qld). There is potential for a fine of up to AU$10 million for the body corporate. Additionally both company directors could be fined up to AU$600,000 each, or jailed for up to five years, if convicted of reckless conduct (Category 1 offence under section 31 of the Act)4.
Other prosecutions have also taken place in Queensland; however proceedings began prior to the formalisation of industrial legislation in the State. In February 2019, a director in Queensland was sentenced to 12 months in prison for reckless conduct, which contributed to the death of a roofer. His company was also fined $1 million5. Furthermore, while the laws are not yet passed in Victoria, a Victorian woman, aged 72, was fined $10,000 and sentenced to six months gaol in January this year, after pleading guilty to recklessly endangering a person at her business who died from fatal head injuries. Similarly, in Western Australia, a magistrate's court fined a head contractor $38,000 after a 17 year old fell to his death on a construction site – an amount that some feel does not reflect the seriousness of the issue, particularly as discussions continue into imposing imprisonment of up to 20 years and a fine of up to $10 million under industrial manslaughter offences6.
Evidently, despite ongoing discussions and national recommendations for industrial manslaughter, cases of this kind are clearly rare and thus attract varying penalties, fines and sentences across different states and territories.  Interestingly, while corporate criminal responsibility was covered under the Criminal Code Act 1995 (Cth) well before industrial manslaughter laws came into effect, and allowed for corporations to be held liable for criminal acts or omissions undertaken by their employees during the scope of their work7,the Criminal Code does not explicitly include manslaughter under the same division. The reason for this being is that industrial manslaughter is currently a State and Territory provision rather than a Federal provision. In addition, current State legislation relating to manslaughter do not have any explicit inclusions to hold corporations responsible for their employees' acts or omissions (with the exception of the ACT). The Federal Government has confirmed that it will not be adopting specific industrial manslaughter laws.
Where is the rest of Australia at?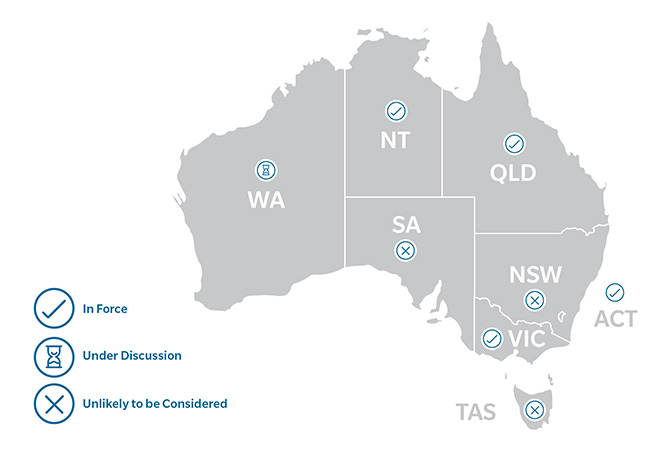 Western Australia
WA is undertaking considerable reform to occupational safety and health legislation with an investment of $12.9 million. Part of this investment includes altering current legislation and including industrial manslaughter provisions. On 27th November 2019 the State Government tabled the WHS Bill in Parliament. The new legislation will include the following offences related to industrial manslaughter:
Industrial manslaughter class one – Carries up to 20 years' imprisonment.
Industrial manslaughter class two (negligent behavior) – Carries up to 10 years' imprisonment.
The new offences will also carry a fine of up to AU$10 million for a body corporate.
Northern Territory
The Work Health and Safety Legislation Amendment (Industrial Manslaughter) Bill 2019 was passed on 27th November 2019.  It introduced two offences of workplace manslaughter with the maximum penalty for an individual being imprisonment for life. A business found guilty of this new offence could face a maximum penalty of 65,000 penalty units or about AU$10.2 million.
The new offence will not be applied retrospectively.
Victoria
On 26th November 2019, the Victorian Parliament passed the Workplace Safety Legislation Amendment (Workplace Manslaughter and Other Matters) Bill 2019 (WM Bill) which will amend the Occupational Health and Safety Act 2004 (Vic) (OHS Act) and introduce workplace manslaughter offences. Where a business (which includes companies, associations and partnerships) is found guilty, they could face fines of up to AU$16.5 million.
A sole trader who conducts a business (but not a volunteer) could face up to 20 years of gaol time if found guilty. Officers found guilty of workplace manslaughter in Victoria could also face up to 20 years in gaol. Unlike the Queensland offence which applies to executive officers 3, the Victorian offence applies to any person considered an officer under the Corporations Act 2001 (Cth).
The WM Bill is not yet operating however it is expected to be in force from 1st July 2020. 
New South Wales
The NSW Government has indicated that they will not be introducing industrial manslaughter laws, but have confirmed that the general criminal law of manslaughter will apply and that they will be amending the offences to lower the threshold for an offence8. 
Other
The only State governments not actively considering the introduction of industrial manslaughter laws are:
South Australia; and
Tasmania. 
Why is this important?
Organisations need to be aware of the laws and regulations in their State regarding safe work practices, particularly as many States impose tougher workplace laws. In many of the examples outlined above, having a firm understanding of the obligations and responsibilities as an employer, and putting in place risk management procedures, may have avoided significant penalties and most importantly, loss of life.
The national review into Australia's model Work Health and Safety laws, also considered whether companies should be able to purchase insurance to cover fines and penalties arising from offences under the WHS legislation. Recommendation 26 from the Review was to prohibit insurance for WHS fines, making it an offence to enter into a contract of insure to cover liability for any monetary penalty, to provide insurance or grant indemnity for liability for a monetary penalty or to take the benefit of such a policy or indemnity2.
The Review found that there was overwhelming support from stakeholders consulted that it was against public policy to allow companies to insure against fines. This recommendation is not intended to preclude insurance coverage for legal costs incurred in defending a prosecution, but to prevent a person required to pay a penalty being able to recover it under an insurance contract. If it did come into effect, individuals and businesses who are found guilty, may be required to pay any fines from their own income, creating a potentially significant financial impact2. 
References:
2 Review of the model Work Health and Safety laws: Final Report - December 2018 (page 5, page 16, page 137)
3 Ashurst 30 July 2019
5 ABC 
7 Legislation (part 2.5, division 12)
8   Ashurst Safety Matters Alert 02 Dec 2019 
This document is not intended to be taken as advice regarding any individual situation and should not be relied upon as such. The information contained herein is based on sources we believe reliable, but we make no representation or warranty as to its accuracy.  Marsh shall have no obligation to update this publication and shall have no liability to you or any other party arising out of this publication or any matter contained herein. Any statements concerning legal matters are based solely on our experience as insurance brokers and risk consultants and are not to be relied upon as legal advice, for which you should consult your own professional advisors.
LCPA: 19/225