Mercer Marsh Benefits Wins Highly Coveted 2017 Most Innovative Broker of the Year Award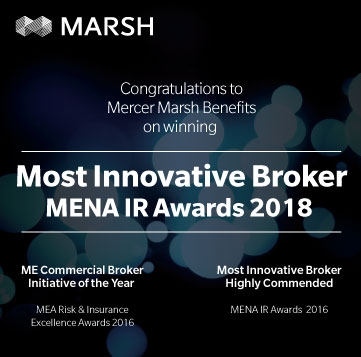 In a strongly contested group; Mercer Marsh Benefits successful demonstrated how BenefitMap can help clients to take control of their employee health and benefits spend. The judges commented on the tools unique ability to provide a historical view of a client's claims data and a future view of their medical plan costs.

Speaking about the accolade, Koen Van Kerckhoven, Employee Health and Benefits Leader - MENA said "In a time where medical inflation across the region is sitting at 15% and employers are facing budget constraints; BenefitMap enables us to provide our clients with powerful census data and analytics and allows them to make informed decisions about their benefit spend. It is a great honour to be recognised for our continued effort to build innovative solutions and to provide best in class service to our clients."
Marsh MENA was highly commended in the category of Most Innovative Broker in 2016 for BlackGold and won the title of MEA Commercial Broker Initiative of the Year – 2016 for our Employee Health and Benefit's Wellness Campaigns.