Dean M. Klisura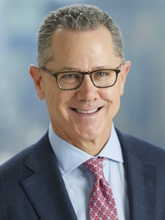 President, Global Placement and Specialties
Dean M. Klisura is the President of Marsh Global Placement and Specialties. He is based in New York.
Prior to his current assignment, Mr. Klisura was the Global Leader for FINPRO based in New York. The practice is responsible for the design and placement of financial products and solutions to Marsh clients throughout the world. Before that, he was the Global Placement Leader for FINPRO. His responsibilities included managing FINPRO's placement activities in the US, Bermuda, and European markets.
Mr. Klisura spent eight years at Chubb prior to joining Marsh in 1993. His last position was in the Executive Protection department in San Francisco.
He graduated from Santa Clara University with a degree in finance.