Julien Ducloy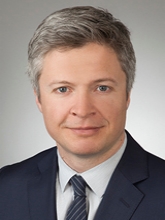 MRC ERM and Cyber Risk Consulting Leader, Canada
SUMMARY
A Risk Management specialist for 12+ years, Julien started his career in the risk department of a large Parisian airport. Following this experience he held risk consulting positions at various auditing and consulting firms. Julien joined Marsh Risk Consulting in 2008 and formed the Enterprise Risk Management Practice, with an additional focus on technological and cyber risk exposures. In 2015, Julien joined MRC Canada as the National ERM and Cyber Risk Consulting Leader. Julien graduated from the Higher Institute of Electronics in Paris as a Computer Science Engineer, and also holds a Risk Management MBA from Ecole Normale Superieure de Cachan (FR).
EXPERTISE & INDUSTRY EXPERIENCE
Julien's expertise includes risk identification and assessment, risk management organization, cyber security program assessment, major risk scenarios quantification (ERM, Cyber breach, etc.), risk appetite and tolerance, risk mitigation planning and risk transfer optimization.
In his roles, Julien has carried out assignments on behalf of clients in the financial services, transportation, manufacturing, chemical, mining, energy, and public entities sectors, in several geographical areas.
EDUCATION
MBA, Risk Management, Ecole Normale Supérieure de Cachan, FR
MSc, Research in Industrial System Control, Hull University, UK
Computer Science Engineer from the "Higher Institute of Electronics in Paris" (ISEP), FR