Cyber Risk
Losses from cyber events continue to grow into the billions of dollars. Your organization's resilience requires a comprehensive approach to cyber risk management, including appropriate investments in capital, technology, processes, and people. Marsh can help you develop and implement risk quantification, mitigation, and transfer strategies to manage your unique and evolving cyber needs at every step.
Data and Analytics
Data and analytics are increasingly woven into our lives. For your organization to capitalize on a high level of tangible insights, based on deep analytical perspectives, investments in improving the use of data and analytics should be a risk management priority. Through the combined power of our data, analytics, and technology, Marsh can help you better understand your risk tolerance and appetite, optimize your risk transfer, and drive down retention costs. We also can help you develop strategies that leverage the data available within your organization for more informed decision making, improved business operations, and enhanced risk management.
Alternative Risk Financing
The accelerated pace of technology development and data acquisition has fostered new ways of assessing and managing risk as well as available sources of risk capital. Marsh works alongside you to explore new and alternative risk financing strategies, optimize risk finance spending, and redeploy working capital back to your business.
Technology and Digital
The unprecedented pace of innovation creates significant opportunities as well as risk governance and management challenges. Whether it's keeping up with the latest developments in cybersecurity, blockchain, or the sharing economy or managing emerging technologies such as autonomous vehicles, drones and wearables, or the internet of things (IoT), Marsh recognizes and supports your need to embrace innovation and technological advances while developing risk management strategies to address your associated risks.
UNWIND, CONNECT, AND RECHARGE: EXPERIENCE MARSH HOSPITALITY EACH DAY AT RIMS CANADA!
MONDAY, SEPTEMBER 24 – TUESDAY, SEPTEMBER 26, 2018.
The Marsh Café will be located in the RIMS Canada exhibit hall which will be located in the Mile One Centre. Click to here access the floor plan.

Marsh Café Hours
Monday, September 24th - 9:00 a.m. - 5:30 p.m.
Tuesday, September 25th - 9:00 a.m. - 3:00 p.m.
FIND US AT RIMS CANADA
CONNECT AND RECHARGE WITH MARSH HOSPITALITY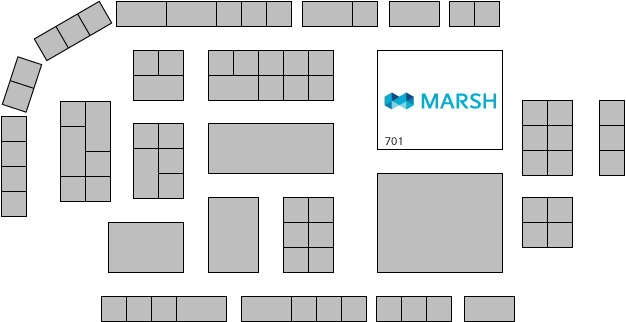 Stop by and grab a cup of coffee, check your email, or engage with Marsh leaders and colleagues. Our experts will be on hand to field questions, offer advice, and share perspectives.
See you at the Cafe!