Marsh Welcomes You to RIMS Canada 2019

We look forward to seeing you at RIMS Canada. The conference continues to be the best way to explore new risks on the horizon and learn about the innovations available today or that are just around the corner.
​What's next for you begins now. We will share with you strategic risk and capital management insights, how to anticipate changes to your risk landscape, and how to become more resilient to global and local challenges.
 Throughout this website, you will find details about our presence at RIMS Canada, where our thought leaders are participating in conference sessions, and the colleagues you can engage with onsite for thought-provoking discussions about what's next for you.
NEXT BEGINS NOW brings focus to the risks you're facing today and may face tomorrow and the specialized solutions, creative approaches, and expert insights that only Marsh can deliver.
At RIMS Canada 2019, you'll learn how you can apply forward-looking perspectives and digital innovations to your risk and capital strategies and make the most of your opportunities in a dynamic global risk landscape.

Cyber Risk
Losses from cyber events continue to grow into the billions of dollars. Your organization's ability to effectively manage cyber risk requires a comprehensive approach – one combining quantified risk measurement with appropriate cyber defenses, broad insurance coverage, and well-rehearsed resiliency plans. Marsh can help you understand your cyber risks, measure their potential financial impact, and develop and implement tailored risk mitigation and transfer programs that optimize your cybersecurity investments and enable you to manage cyber risk with confidence.
Emerging Risks
Rising geopolitical and geo-economic tensions, environmental issues, and rapidly evolving cyber and technological advances and threats make anticipating emerging risks more important as adverse trends can disrupt growth, societal cohesion, and the bottom line. Marsh can help you look ahead, articulate the relevance of emerging risks to your business, and provide the expertise and solutions required for timely decisions.
Click to view related RIMS session here.
Risk Finance Capital
The accelerated pace of technology development and data acquisition has fostered new ways of assessing and managing risk as well as managing capital, which continues to be in surplus. Marsh helps you better understand your risk tolerance and appetite, explore new and alternative risk financing strategies, optimize your risk finance spending, and redeploy working capital back to your business.
Click to view related RIMS sessions here.
Technology and Digital
The unprecedented pace of innovation creates significant business opportunities as well as risk governance and management challenges. Whether you are trying to keep up with the latest developments in cybersecurity, artificial intelligence, blockchain, or the sharing economy or are deploying technologies such as autonomous vehicles, drones and wearables, or the internet of things (IoT), Marsh can help support your embrace of innovation and technological advances while developing risk management strategies to address your associated risks.
Diversity & Inclusion
Diversity and inclusion is critical for attracting talented people, serving clients and customers, and generating creative business solutions. Marsh is dedicated to leading the way in our industry and finding innovative ways to strengthen our collective and individual ability to recruit, retain, and support a diverse and inclusive culture globally that drives our business and our workplaces forward.
Click to view related RIMS session here.
UNWIND, CONNECT, AND RECHARGE: EXPERIENCE MARSH HOSPITALITY  EACH DAY AT RIMS CANADA!
MONDAY, SEPTEMBER 9 – TUESDAY, SEPTEMBER 10, 2019.
The Marsh Café will be located in the RIMS Canada exhibit hall which will be located in the Edmonton Convention Centre. 
Marsh Café Hours
Monday, September 9 - 9:00 a.m. - 5:30 p.m.
Tuesday, September 10 - 9:00 a.m. - 3:00 p.m.
FIND US AT RIMS CANADA
CONNECT AND RECHARGE WITH MARSH HOSPITALITY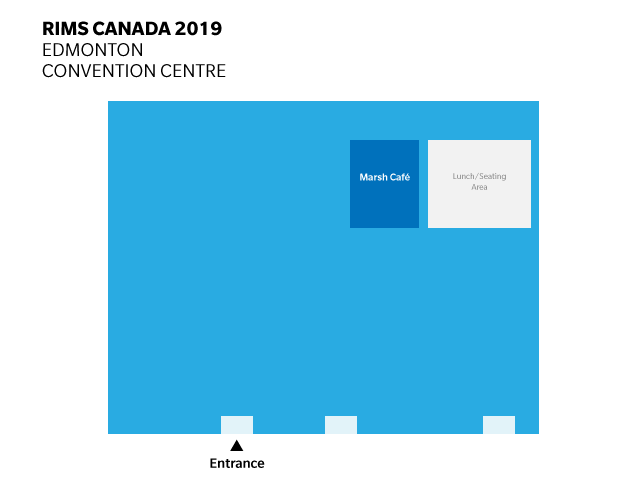 Stop by and grab a cup of coffee, check your email, or engage with Marsh leaders and colleagues. Our experts will be on hand to field questions, offer advice, and share perspectives.
See you at the Cafe!