Health, Fitness Clubs, and Studios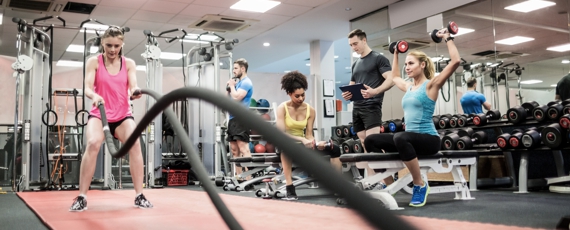 The fitness industry continues to grow as society moves towards leading a healthier lifestyle. As consumers in this space look for new ways to exercise, businesses in the fitness industry evolve to provide new and innovative outlets that help promote active living. Marsh Canada Limited (Marsh) sees this as an opportunity to introduce an insurance solution for rapidly growing fitness industry, with unique coverage offerings to match. Marsh has selected Markel Canada Limited (Markel) as the underwriter to offer core program coverages for property, general liability, errors and omissions, and cyber risks. 
Insurance Program Core Offerings
Property - Broad form property damage is implemented for the program. This coverage encompasses the property element itself, contents of every description, tenants improvements, profits (business interruption), and signs coverage.
Commercial General Liability and Abuse - Covers claims arising from bodily injury, property damage, personal injury, and advertising injury, subject to policy terms, conditions, and exclusions. The program also includes a comprehensive medical payment structure for onsite injury unlike some other policies. Abuse coverage is on a "Claims-Made" basis and covers the act of "Abuse" – this arises commonly from threat of molestation, harassment, corporal punishment, or any other form of physical, sexual, or mental abuse.
Errors and Omissions - This coverage is to insure against a breach of professional duty whether such duty is owed in contract or otherwise, arising from negligent acts, errors, or omissions whenever or wherever committed or alleged to have been committed in connection to the professional act.
Cyber - The Cyber liability policy extension includes both third party and first party coverages. The third party aspect deals with privacy and data breach exposures. First party exposures include notification, response handling, restoration, and increased costs of working exposures.
Optional Offerings
DAS - Canada is becoming increasing litigious. Ensure sufficient protection and legal advice is available for your business with DAS Legal Expense insurance — underwritten by Temple Insurance Company.
Program Benefits
Rates and Discounts - Group rates on insurance program quotes may save your business money. Further rate reductions and discounts available for eligible risks. 
Endorsements - Industry tailored coverages and limits to protect against the day-to-day exposures that challenge your business and operations.
Flexible Limits - To fit your business better, please ask about options to increase or decrease your limits of coverage.
PROGRAM DISCLOSURE
Your (Business Package or Product) coverages will be placed with a program administered by Marsh Canada Limited. Marsh Canada has engaged in a competitive marketing process to offer a competitive product.  We have negotiated this Program (Business Package) on a group basis with the insurer but we have not acted as a broker for any individual participant.    
This Program may be for a term of several years and may not be negotiated annually.
Information in this web page represents a synopsis of coverage and is provided as a reference only. The actual policy, including endorsements determines coverage. It contains exclusions, limitations and other provisions not referenced (or only briefly summarized) here and the policy should be consulted for full coverage terms, conditions and requirements. Deductibles may apply.  For exact terms, definitions, limitations, and exclusions, please speak with your licensed Marsh Canada Limited insurance broker, or refer to the policy wording. 
This web page is not intended to be taken as advice regarding any individual situation and should not be relied upon as such. The information contained herein is based on sources we believe reliable, but we make no representation or warranty as to its accuracy. Marsh shall have no obligation to update this publication and shall have no liability to you or any other party arising out of this publication or any matter contained herein. Marsh makes no representation or warranty concerning the application of policy wordings or the financial condition or solvency of insurers or re-insurers. Marsh makes no assurances regarding the availability, cost, or terms of insurance coverage.