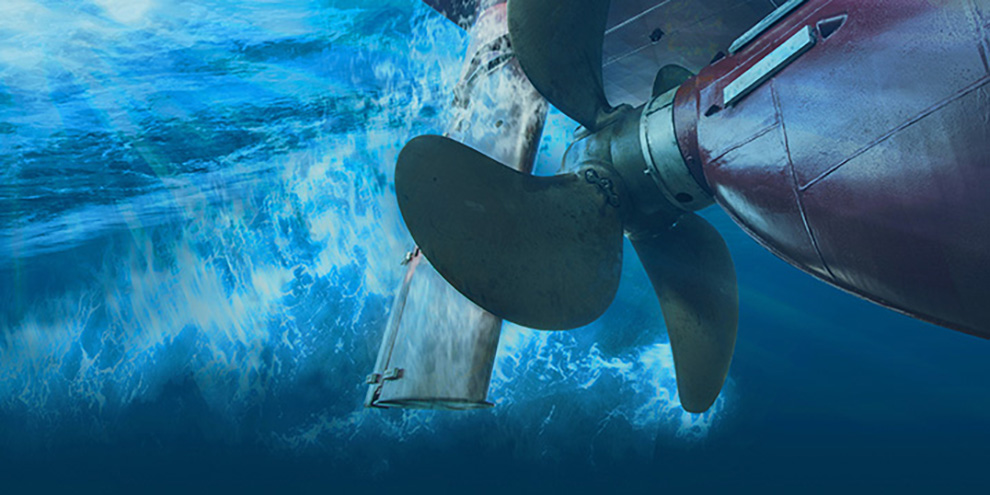 Global Maritime Issues Monitor 2019
Introduction
The report examines the likelihood of 18 maritime issues based on research among senior maritime stakeholders across 46 countries globally. In this, the second annual Global Maritime Issues Monitor, it's interesting to look at where perceptions have changed in the year since our inaugural survey.
Once again, we asked maritime leaders to share their views on the important issues of the day including:
Which events are most likely to occur?
Which would have the most impact?
How prepared is the industry should such events unfold.
We added some additional issues for our respondents to react to this year.
One result was that concerns about the environment and climate change rose in prominence, scoring even higher than last year in terms of likelihood and impact.
The report also undertakes deep dives into the themes of "Workforce of the Future," and "Getting to Zero," in which we look at the issues ranging from gender diversity in the workforce to zero-carbon fuels.

Survey Highlight: New environmental regulation ranked top issue likely to occur in the next 10 years.
Methodology
Our survey respondents included board members, C-suite, and functional decision makers from the private sector alongside government and civil society representatives.
They were asked to rank a series of global maritime issues on their potential impact to seaborne trade, the likelihood of different events occurring over the next 10 years, and the maritime industry's preparedness for these events.
The survey and analysis presented in this report provides insight on a number of maritime issues and looks at how well prepared the sector is to meet the challenges.
Survey Highlight: Global economic crisis ranked top issue with most potential impact over the next decade.
Survey Highlights
Below we summarise the key highlights from the survey, covered in more detail within the report:
Potential Impact of Environment Issues Increases
For the second consecutive year, survey respondents tapped a potential global economic crisis as the issue that will have the greatest impact over the next 10 years.
Environmental concerns were close behind with decarbonization of shipping at number two, followed by new environmental regulations.
Overall, the top 10 issues for impact in 2019 reflect current events, as seen by the inclusion of environmental concerns, geopolitical tension, big data and artificial intelligence, changing trade patterns, cyber-attacks and data theft, and societal demands for sustainability.
For Some Key Issues, Impact and Likelihood Connect
When asked how likely certain issues are to arise in the next 10 years, replies correlate closely with respondents' view of impact: three issues - new environmental regulation, cyber-attacks and data theft, and geopolitical tension are found in the top five for each.
Given that linkage, it's fair to say these issues are firmly top of mind for leaders in the maritime sector.
However, being top of mind does not necessarily equate to being prepared to manage the risk.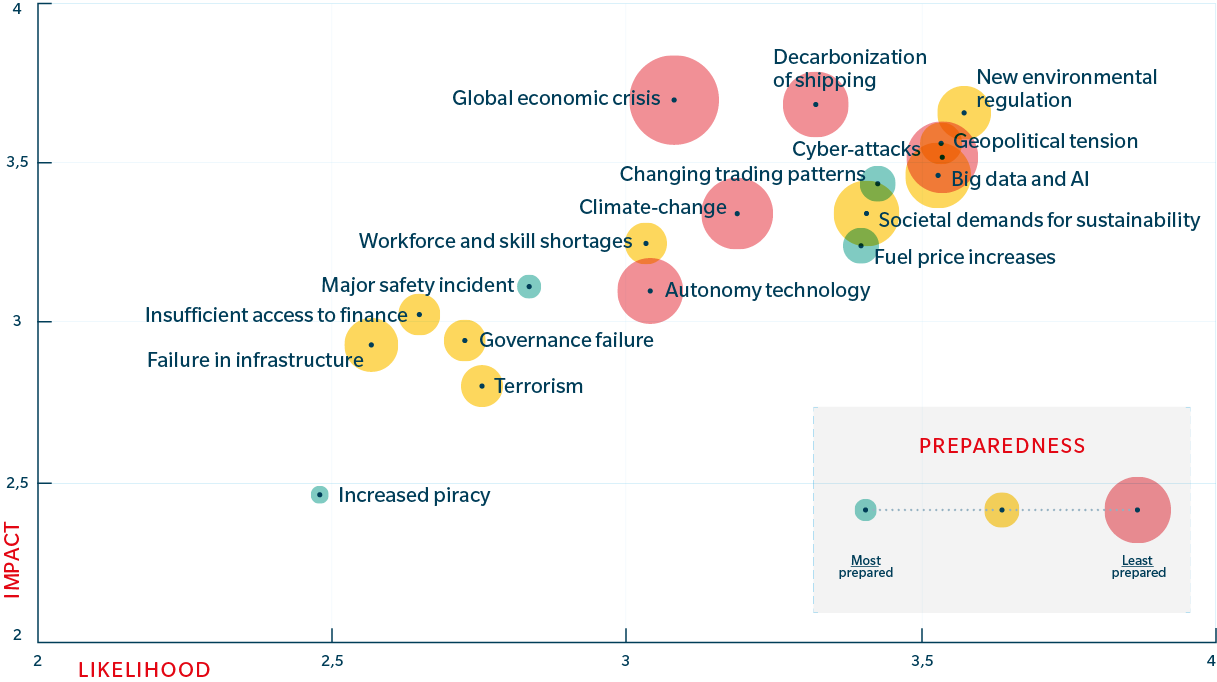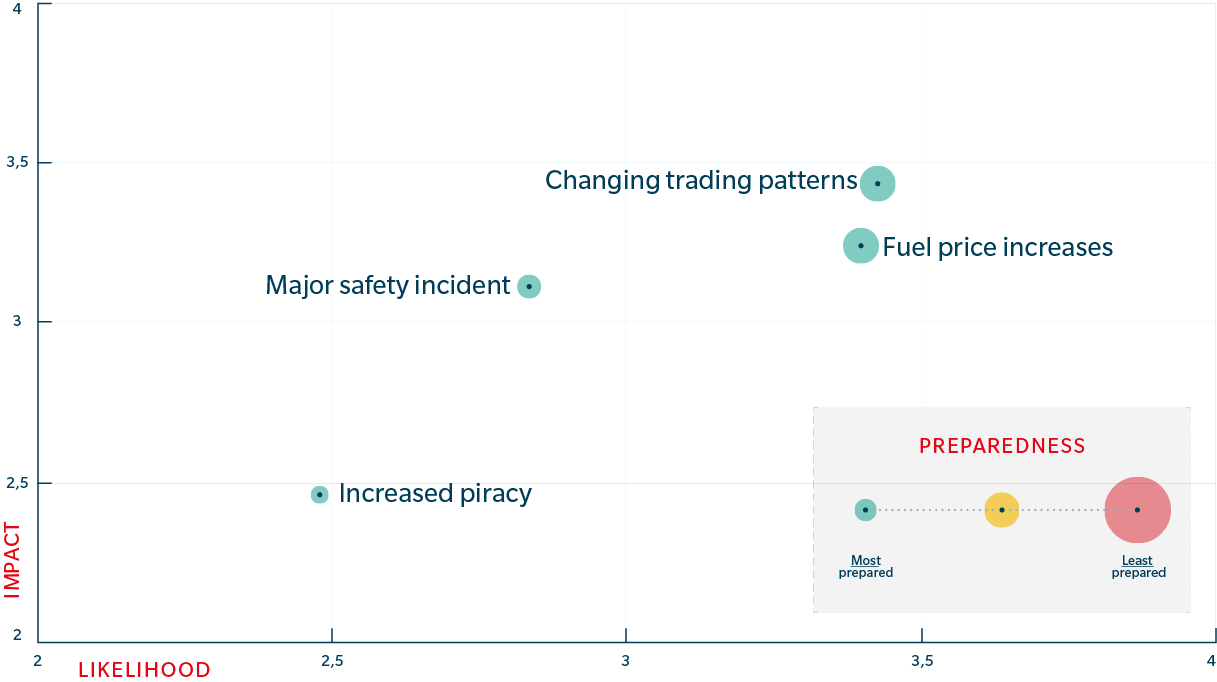 Global maritime issues map

| Issue | Likelihood | Impact | Prepared |
| --- | --- | --- | --- |
| Increased piracy | 2.47 | 2.46 | 3.05 |
| Major safety incident | 2.83 | 3.11 | 2.74 |
| Fuel price increases | 3.39 | 3.24 | 2.69 |
| Changing trading patterns | 3.42 | 3.44 | 2.63 |
| Insufficient access to finance | 2.65 | 3.03 | 2.47 |
| Terrorism | 2.75 | 2.80 | 2.44 |
| Workforce and skill shortages | 3.02 | 3.25 | 2.41 |
| Geopolitical tension | 3.52 | 3.55 | 2.38 |
| Governance failure | 2.72 | 2.95 | 2.37 |
| New environmental regulation | 3.56 | 3.66 | 2.30 |
| Failure or shortfall in infrastructure | 2.56 | 2.93 | 2.30 |
| Big data and artificial intelligence | 3.51 | 3.47 | 2.22 |
| Societal demands for sustainability | 3.40 | 3.34 | 2.21 |
| Decarbonization of shipping | 3.31 | 3.68 | 2.20 |
| Autonomy technology | 3.03 | 3.10 | 2.19 |
| Cyber-attacks and data theft | 3.52 | 3.52 | 2.16 |
| Failure of climate-change mitigation and adaptation | 3.18 | 3.34 | 2.15 |
| Global economic crisis | 3.07 | 3.69 | 2.08 |
Preparedness Remains a Key Concern

Respondents feel the industry is least prepared for a global economic crisis, which is also deemed as having the most impact.
Seven of the ten issues considered as having the most impact are among those for which respondents consider the industry to be least prepared.
For many of these issues, it's likely the maritime industry is not alone in questioning its preparedness. 
Every sector is grappling these days with issues related to climate change, cyber-attacks, the ongoing technology revolution, and geopolitical concerns.
It's also of interest that respondents consider the industry best prepared for what is one of its unique issues: increased privacy.
Key Takeaways
Cyber-related threats stayed near the top of the list of concerns in the 2019 Issues Monitor survey, and are likely to remain high on the list in the future. Shipping is part of global and local critical infrastructures, which have come under increasing attack over the past few years.
Also maintaining a high level of concern this year are economic and geopolitical concerns. Financial concerns are driven by issues such as the trade tensions playing out between the US and China. Should the global economy stall, the maritime industry will be swiftly impacted. And our survey respondents do not believe the industry is well prepared to weather such a storm.
Environmental issues took a central place in the survey results this year, with some areas newly added to the survey drawing much concern: decarbonization of shipping, which placed at number two for impact, and new environmental regulation, tallied as third in impact.
Perhaps the main takeaway from our look at the top issues of 2019 is the lingering feeling respondents have that the maritime industry is relatively unprepared to deal with them.
Rather than be a point of worry, we hope this view of preparedness is taken as a challenge. Our qualitative research indicates that the industry has the power to influence many of the top long-term issues identified, and the expertise and resources to focus on them.