Global Insurance Market Index - 2020 Q2
Global Commercial Insurance Pricing Increased 19% in Second Quarter
Global commercial insurance pricing increased for the eleventh consecutive quarter in the second quarter of 2020, according to Marsh's quarterly Global Insurance Market Index, a proprietary measure of global commercial insurance premium pricing change at renewal, representing the world's major insurance markets and comprising nearly 90% of Marsh's premium.
Key takeaways:
Global property insurance increased 19% versus 15% in Hong Kong, globally financial and professional lines increased 37% versus 12% in Hong Kong, while global casualty pricing increased 7% versus -0.6% in Hong Kong.
Composite pricing in the second quarter increased in all geographic regions for the seventh consecutive quarter.
The US (18%), UK (31%), Continental Europe (15%), and Pacific (31%) regions all had double-digit pricing increases. The increases in these regions were largely driven by increases in property/business interruption and directors and officers (D&O) coverages.
For Hong Kong/Macau, there was a continuation of double digit premium rate increases for property, construction, terrorism, D&O and marine hull driven by deteriorating underwriting results, regional or global decision making and increased cost of capital (including reinsurance costs). Insurers increasingly focused on risk quality.
For other lines of business including liability, employees' compensation, professional indemnity and marine cargo, a combination of adequate profit margins, local decision making and competition have kept premium rates relatively flat.
Increased retentions, curtailing of specific coverages (sub-limits or removal of cover) as well as reduction in wageroll, turnover and gross profit have helped contain the actual monetary premium increases.
Globally, we anticipate that premium rate increase for all major classes of insurance will continue into 2021. The impact of Covid-19, either directly through related claims or indirectly from economic and political uncertainty, looks set to stay for the remainder of 2020.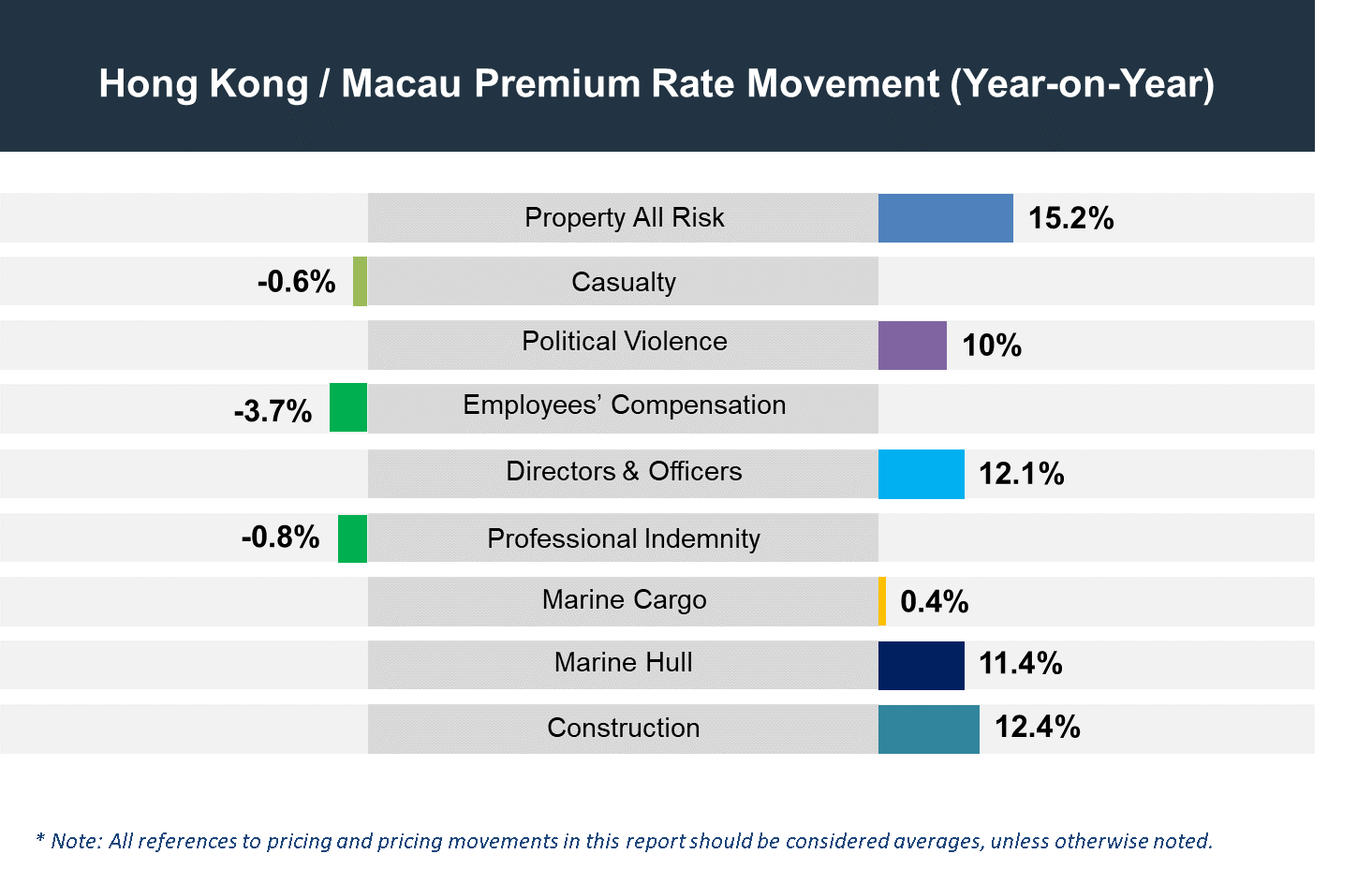 Constant bar chart represents Global Insurance Composite Pricing Change.