Global Insurance Market Index - 2019 Q3
Global Commercial Insurance Pricing Up 8% in Third Quarter
Global commercial insurance pricing increased for the eighth consecutive quarter in the third quarter of 2019, according to Marsh's quarterly Global Insurance Market Index, a proprietary measure of global commercial insurance premium pricing change at renewal, representing the world's major insurance markets and comprising nearly 90% of Marsh's premium.
Average commercial insurance pricing increased 8% in the third quarter of 2019, the largest increase since the survey began in 2012.
Globally, on average, pricing for property risks (including business interruption) increased by 10%. Rates in Hong Kong and Macau have increased by approximately 28%.
Financial and professional lines rose by nearly 14% globally, but remain flat to decrease in Hong Kong.
Global casualty rates increased by approximately 1%. Employee Compensation pricing has raised by approximately 6% in Hong Kong against a background of poor loss activity.
Composite pricing in the third quarter increased in all geographic regions for the fourth consecutive quarter, largely driven by rates in Directors and Officers Liability (D&O) coverage and property.
Clearly, there are some anomalies between Hong Kong/Macau and global rates in property (due to the consecutive typhoons in Hong Kong/Macau in 2017 and 2018) and financial lines (Expand FI and class actions in the US and Australia). However, whilst there was no significant natural catastrophe losses in Hong Kong/Macau in 2019, the current demonstrations in Hong Kong will test property underwriters particularly around Strikes, Riots and Civil Commotion cover and we would expect insurers (driven by their treaty reinsurers) to implement sub-limits or other coverage restrictions in 2020. For rates, we would anticipate that property rates in Hong Kong/Macau will start to flatten out in 2020 (after two years of sharp increases), but accounts with large global exposures will follow the global trends. Within the property class, construction, power/energy and terrorism (particularly the latter) will remain challenging.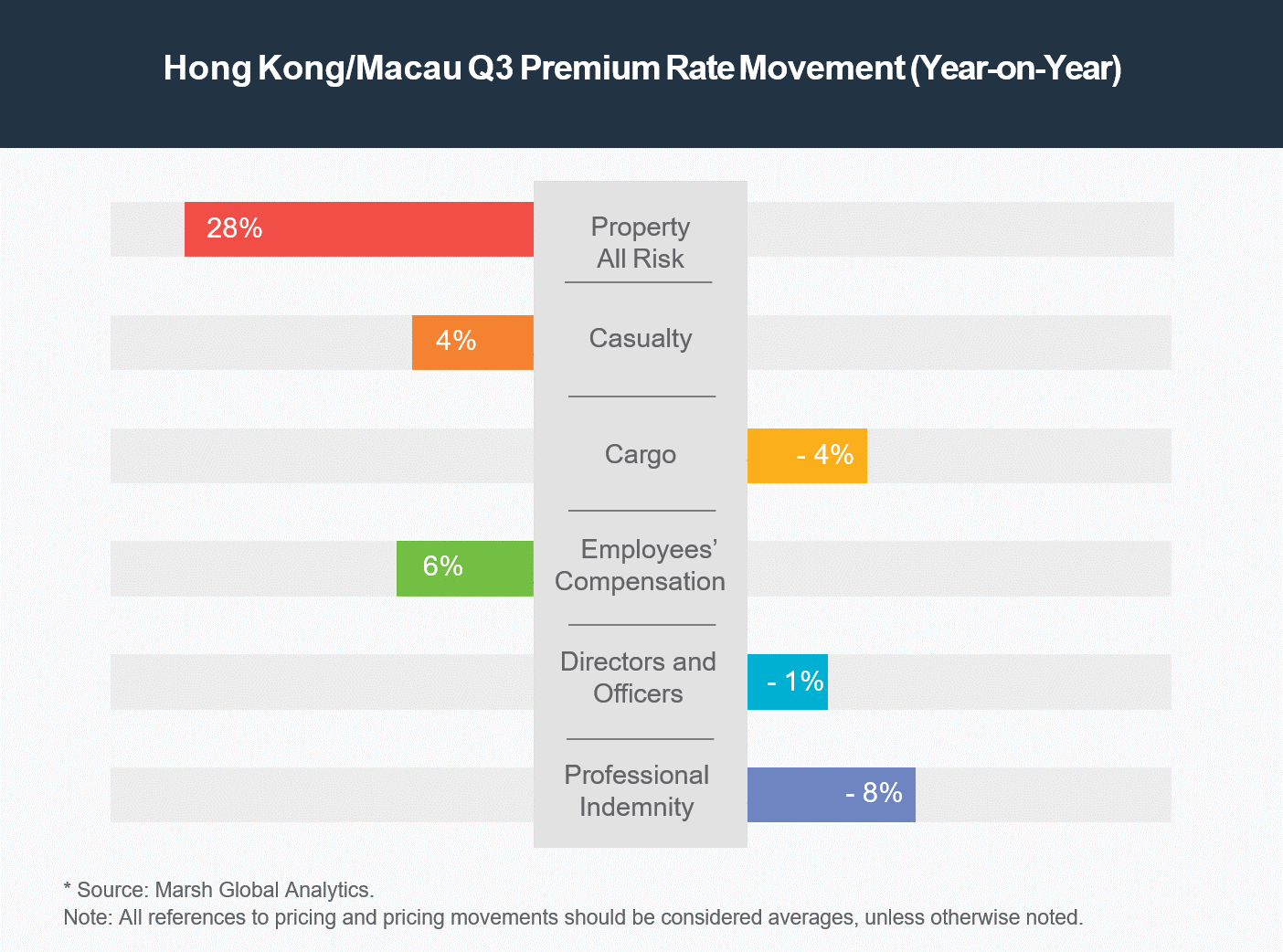 Use the mouse wheel to zoom in and out; use mouse drag to pan to a specific period of time.
Constant bar chart represents Global Insurance Composite Pricing Change.