Recognized by Our Clients and Industry
We are pleased to announce that we have been named "Best Insurance Broker" for the third consecutive year at the CFO Innovation Awards held in Singapore on December 8, 2016.
The CFO Innovation Awards recognize Asia's leaders in all aspects of financial management. Nominated and voted by readers of CFO Innovation, the annual awards ceremony acknowledges not only CFOs and their teams, but also the companies that provide them with the services, support, and technologies that enable their success.
Marsh is proud to have won this award, and it reinforces our reputation as a trusted advisor. We will continue to help our clients succeed in an increasingly complex and uncertain world.
This is the second award that Marsh has won in Asia this year. In October, Marsh was named "Broker of the Year" at the 20th Asia Insurance Industry Awards. The ceremony took place in Macau, and was organized by Asia Insurance Review, a leading journal and strategic partner in the Asian insurance industry. Winners of these awards are chosen by a panel of 30 judges representing a cross-section of the industry, including regional and international market leaders, association heads, as well as regulators. KPMG audits the awards process.
We are grateful to CFO Innovation and its readers for their continued support, as well as to the panel of judges for the Asia Insurance Review award, for their affirmation. We are proud to have won both awards and be recognised by our clients and industry.
We look forward to continuing to serve the business community in Asia as a trusted partner for many years to come.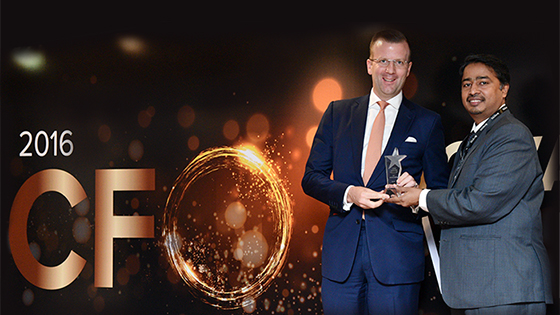 Photo caption:
Alistair Fraser, Head of Sales and Head of Insurer Consulting Group Practice, Marsh Asia (left) receiving the CFO Innovation "Best Insurance Broker" award from Anthony Raja Devadoss, Deputy Chair, Outsourcing Malaysia.