CB Lim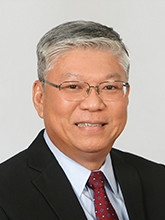 Chief Executive Officer and Marsh & McLennan Companies Chairman, Malaysia
CB is a qualified Senior Associate and a Certified Insurance Professional (CIP) of the Australian and New Zealand Institute of Insurance & Finance Experience. He has been the Chief Executive Officer and Country Manager of Marsh Malaysia since 2003.
CB has spent the last 34 years working in both technical and senior management positions with various multinational insurance brokers in Malaysia. He started his career with what was then Reed Stenhouse (now Aon) in 1983 and his last position prior to joining Marsh was Chief Operating Officer with Sime Alexander Forbes Insurance Brokers.
CB brings with him a wealth of experience in insurance broking, risk management advisory and strategic operational management including setting vision and business directions, executing key growth initiatives, human capital and technology related development. He has built a good understanding in Multinational Companies in Malaysia ensuring that these companies received the best global service of Marsh and Marsh & McLennan Companies.
CB currently sits as an Executive Director on the Board of Directors of Marsh Malaysia.