Political Risk Map 2016: Heightened Political Risk Tensions Challenge Foreign Investors and Multinational Companies
In the last decade, multinational organizations have undertaken unprecedented international expansion, leaving them exposed to an expanding array of global credit and political risks. And those risks – including terrorism and political violence, armed conflicts, increasingly powerful anti-establishment political movements, the threat of global recession, and persistently low commodity prices – continue to grow.
Multinational risk professionals must now be prepared for virtually any type of political or economic risk threat in developed and emerging markets.
Drawing on data and insight from BMI Research, a leading source of independent political, macroeconomic, financial, and industry risk analysis, Marsh's Political Risk Map 2016 presents a global view of issues facing multinational organizations and investors.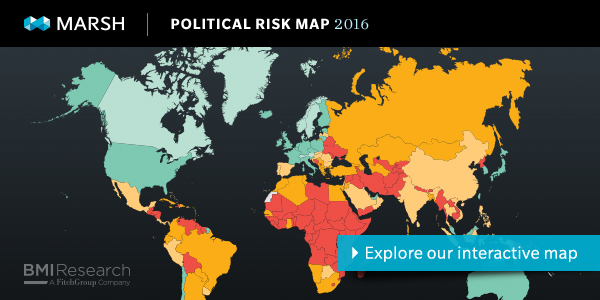 According to the report, the major political risks that organizations and investors will face in the coming year include:
Terrorism and heightened conflict in the Middle East.
Emerging economy struggles.
United States elections in 2016.
Anti-establishment parties in Europe.
Continued falling commodity prices.
Succession risks.
Centralization vs federalism.
Rivalries among leading nations.
To learn more, download our report and explore our Interactive Political Risk Map 2016.