Ed Dandridge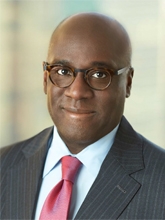 Chief Marketing & Communications Officer
Ed Dandridge is Chief Marketing & Communications Officer of Marsh.  In this role, he oversees Marsh's global marketing, communications, thought leadership and engagement programs.
Prior to Marsh, Mr. Dandridge served as Chief Executive Officer of the National Association of Investment Companies, an industry trade group representing private equity and venture firms.  Previously, he held executive corporate reputation roles at Nielsen and ABC Television Network.   For more than 15 years, Mr. Dandridge was a crisis management consultant specializing in high profile business, media, policy and regulatory issues.
He is a lecturer on reputational risk at Fordham's Graduate School of Business, and a frequent speaker at conferences including the National Association of Corporate Directors, New America Alliance, CultureShift Labs and the Council of Urban Professionals.  An attorney, he began his career in private practice in New York; and is a member of the Executive Leadership Council. 
Mr. Dandridge received his BA in History from Tufts University Cum Laude, and his Juris Doctorate from the University of Pennsylvania School of Law.