Martin South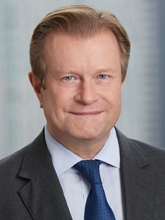 President, US and Canada Division
Martin South has 30 years of global insurance industry experience, which began with the Minet Group in 1983. In 1985, Mr South joined C T Bowring Marsh, a Marsh & McLennan Companies UK broking unit, followed by various roles of progressive responsibility within Marsh's UK operations.

In 1996, Mr South joined Zurich as Senior Vice President in its wholesale broking unit, and became CEO of Zurich's London operations in 2000.
Between 2004 and 2006, Mr South was CEO of International Businesses at Zurich Financial Services and a member of the Group Management Board, responsible for all of Zurich's operations outside North America and Europe. His responsibilities included developing the strategy and vision for these businesses, with a particular focus on growth markets such as China.
In 2007, Mr South re-joined Marsh in the UK as the CEO of Marsh Ltd. During his time as CEO of Marsh Ltd, Mr South was responsible for the acquisition and integration of HSBC Insurance Brokers in 2010, which significantly increased the scale of our UK operations and doubled the size of Marsh's business in Hong Kong. In 2010 he also became responsible for Marsh's operations in Turkey and India, both significant growth markets for the firm.
In January 2012, Mr South was promoted to the position of CEO for Marsh Europe, which encompassed the UK, Ireland, Continental Europe, India and Turkey, representing many high-growth markets.

In November 2012, Martin was appointed to the position of CEO for Marsh's newly aligned Asia-Pacific region, comprising 17 markets across Asia, India, Australia, and New Zealand. He relocated to Singapore, Marsh's Asia-Pacific regional headquarters, in January 2013.