Nathan Richmond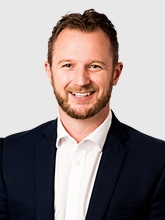 Chief Broking Officer & Head of Specialties
With over 15 years experience in the industry, Nathan has successfully fulfilled roles both underwriting and broking.
Nathan has been with Marsh since 2002, spending three years with Marsh in London, working extensively on placement strategies and solutions for large major and multinational business requiring international risk transfer options.
As the Chief Broking Officer and Head of Specialties for Marsh NZ, Nathan is responsible for the overall strategies, management and relationships with the insurance market and delivering insurance solutions to our specialties practices.