"Sorry, you do not have coverage": Guide to avoid hearing these words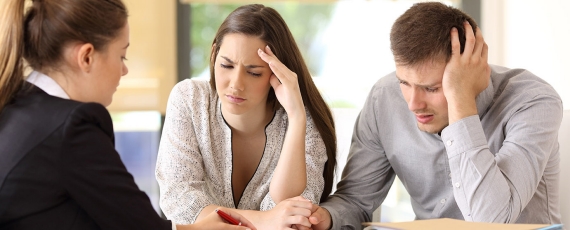 You have health insurance and unfortunately you must use it. You do not worry about the cost, since your policy should cover most of any expense. However, at the time of care you receive a: "I'm sorry, you do not have coverage", and frankly, after all the months of timely payment without using a policy, you can not help but feel betrayed
Unfortunately this scenario can happen, and it is usually quite common in people who have not fully understood the extent of the conditions and coverages of their policies. That is why it is extremely important to read the insurance plan.
With this in mind, we share five points to avoid hearing these unfortunate words:
Periods of Lack and Wait
Some benefits of the policy are subject to waiting periods: basically coverage abroad, maternity, organ transplantation, including dental coverage, among others. These periods, such as maternity, can be up to 18 months, or longer, depending on the plan. The reason why this happens is to avoid that, being with a pregnancy in progress, we take an individual policy to be able to use it only for the period of need. That is why it is necessary to take into account that if they are on the way to starting a family, prior advice is necessary, since, depending on the case, they must previously contract a health policy.
Not all the information has been declared in the membership form
The current pre-existing law is undoubtedly very helpful in the issuance of new individual policies. However, many people are tempted not to declare all the family medical history on the card, trusting that, if this information remains hidden, they can access the coverage without problems. It is currently quite simple, from a medical point of view, to detect these omissions that can not only lead them to lose coverage due to some diagnosis, but could, in very specific cases, result in the cancellation of the policy, that is why it is It is essential to declare all the medical history in the affiliation form.
It is also important to note that in some plans the coverage of pre-existing conditions is not applied.
The treatment you need does not have coverage
When we select a health plan, it is important to know the extent of what our insurance covers, since depending on the plan, the providers and coverage may be higher or lower. Individual policies do not cover treatments that are in the experimental phase, which do not have the approval of the FDA or NCCN, in addition to natural or cosmetic treatments.
You have received a treatment in a previous policy that does not have coverage in your current policy
International policies do not cover pre-existing abroad. Therefore, it is important to complete all the relevant information on any pre-existing diagnosis in the affiliation card, in order to avoid surprises in the future.
Intermediation and Advice
Finally, the hiring and management of these insurance must be through a specialist. The information contained in the health plans and their application in each case must be handled with great care, so it is imperative to have the best possible advice.
At Marsh we have a specialized team that can advise you on the process of contracting and using the policy.
After reading this blog you can avoid hearing these unfortunate words "I'm sorry, you do not have coverage", with a correct knowledge of the extension of your health plan, periods of lack and waiting, coverage, limits and, above all, declaring in Detail all information requested for the issuance of an individual health policy.