Four Lessons from 2020 to Protect Your Business in the New Normal
The COVID-19 pandemic has resulted in fundamental changes – many of which are here to stay – that have led to dramatic shifts in the risk landscape. Those risks remain prevalent in 2021 as the world continues to fight against COVID-19. However, there have been some positive takeaways: 2020 has geared us up with key learnings on building resilience and how to optimise insurance practices in the new normal.
For many businesses in the Middle East, obtaining insurance has been driven by regulatory requirements. Now, in the midst of a global shift in the risk landscape, international economic fluctuations, and an ongoing pandemic, businesses find themselves presented with the true value of risk management.
Results from the World Economic Forum's 2020 Executive Opinion Survey, produced in partnership with Marsh and McLennan, highlight front-of-mind concerns regarding the global pandemic. To no surprise, "spread of infectious diseases" rose up the rankings, from bottom of the table in 2019 to being considered second among global business risks. The other Top 10 risks remained relatively similar to last year's rankings, with "failure of critical infrastructure" the top-order risk that slipped in concern most noticeably, dropping five places to 14th. "Unemployment and underemployment" ranked as the number one concern globally, one of the many risks that have taken on a new significance in a COVID-19 impacted world.
In the Middle East, top concerns have not differed greatly from the global ones (Table 1).
Table 1: Top Risk Concerns in MENA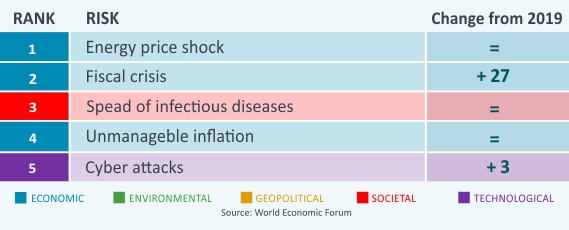 With these challenges on the horizon, protecting bottom lines, business assets, supply chains, and people have become a priority for many companies. 
Organisations should be preparing to mitigate risks relating to their operations. This includes the potential for business interruption, due to the presence of the virus on their premises; employee absenteeism; or supply chain disruptions among others, leading to financial vulnerability.
The following lessons learned in 2020 can be used as a guide to navigating the current dynamic risk landscape:
Prioritise your people's safety. It is important that businesses take steps to plan for and protect against the possibility of future outbreaks and their implications, especially for employees.
Understand how existing insurance coverages may respond to the different risks.  Ensure you are protected by understanding your unique risk landscape.
Conduct regular evaluation of your risk and insurance plans to allow timely exposure of critical vulnerabilities. There are different tools that you can use to evaluate your business resiliency and insurance plans.
Establish strategies that cover emergency response, business continuity, crisis management, and crisis communications. They should not only to be ready to monitor the progress of the ongoing pandemic, but also to protect employees and continue operations in light of border restrictions, supply chain issues, and more localised impacts.
Looking beyond traditional insurance procurement, managing risk could help protect your balance sheet during times of crisis. The extreme nature of the COVID-19 crisis emphasised this fact, as firms that had not adequately managed their risks experienced turbulence. Indeed, after global lockdowns and significant societal disruption, the business landscape has changed forever, with many established firms struggling to cope with these unprecedented times or having to exit.
Lean on specialists in risk management for knowledge and support on your new path to success. In our Value of the Broker series, Marsh will provide you with an overview of the key areas to consider in your risk management. In this series, we will offer insights to help you assess the road ahead and protect your business for a sustainable future.