Brownfield Sites Have High Risks But Can Reap Huge Rewards
Brownfield sites are becoming more attractive in the US as development land becomes scarcer, but new players may face more risks than anticipated. In the seventh edition of our construction magazine Building Sight, we look at how the construction industry is tackling environmental issues and aiding countries to reduce emissions and meet ambitious targets.
Brownfield used to be a dirty word in the US: plots of contaminated land, blighted by their industrial past, requiring significant investment to bring them back into use. Turning them around was left to specialists, who learned over decades about the associated risks and how best to deal with them.
Today, the narrative is different.
"We have been in economic expansion for a long time. There has been a lot of redevelopment, so we are running out of clean sites to develop," explains Chris Smy, global leader of Marsh's Environmental Practice. "A lot of real estate companies are getting involved in properties they would not have touched five or ten years ago."
There are plenty of sites to go after. The US Environmental Protection Agency (EPA) estimates there are over 450,000 brownfield sites.
In some regions, such as the East Coast, there's demand for commercial and light industrial sites as the reshoring agenda gains pace, says Jim Vetter, senior environmental risk advisor at Marsh. Elsewhere — California, for instance — land for housing is scarce.
And there is a strong linkage between reuse and sustainability. "There's a huge spectrum of reuse," says Randall Jostes, CEO of Environmental Liability Transfer (ELT), an environmental liability assumption company that has been redeveloping brownfield sites since 2004, though Jostes' experience stretches back further.
"We've redeveloped brownfield sites into everything from industrial to recreational, commercial, retail, even high-rise residential." ELT's Brayton Point development sees a traditional power generation site transformed into one for renewable energy.
In parallel with rising demand for sites comes another challenge: Many of the "easy" brownfield sites have already been redeveloped.
According to ELT, 60% of redevelopments have been "low-hanging fruit" sites, although such sites only account for 15% of the 450,000 brownfield sites in the US.
Turning around brownfield real estate successfully requires a broad range of skills: risk management, risk transfer, technology expertise, and real estate know-how.
"Average developers who are looking for land in a constrained market will think they can take on these sites," says Eric Zitek, Western regional development manager at Viridian, a brownfield developer with a track record of almost 20 years. "However, once they get into the details, they find it's too difficult and then fall out of contract."
However, not everyone can make these sites work. For instance, in 2013 Viridian took on the ePort Logistic Center in Perth Amboy, New Jersey , after another major developer had grappled with it for several years before admitting defeat.
Cleanup Funds
The US started to tackle its bank of contaminated sites back in 1980, when Congress established the Comprehensive Environmental Response, Compensation and Liability Act.
Known as Superfund, it forces those responsible for polluting a site to clean up or provide funds for the EPA to do so.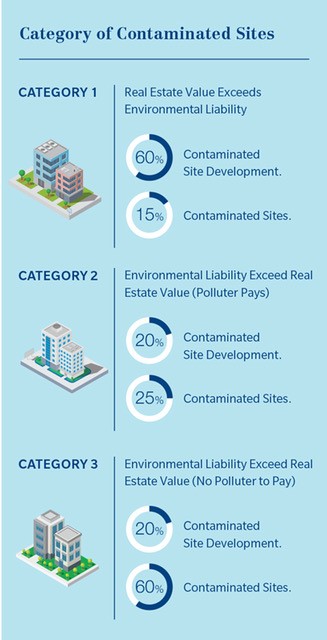 The challenge for any developer considering one of the 1,600 Superfund sites is that the process to determine the remediation required, fund, and deliver them is very complicated.
"It has been arduous and slow, although the EPA is examining the process to see if they can simplify it to deliver quicker and more cost efficient cleanups," says Jostes.
There are around 20 different EPA funding programs that aim to encourage brownfield development, the latest being Qualified Opportunity Zones, which offer tax breaks to brownfield plots in low-income and rural communities.
Sites that require government funding or tax breaks to make them viable may not be the best bet, says Viridian CEO Bill Lynott. "We think our projects need to stand on their own two legs. If the real estate does not work, if you cannot integrate it with environmental cleanup costs, we know our investors would not be interested."
New Vision
Regulators' attitudes to brownfield-site repurposing have matured over the years.
Today, they are far more willing to look at a fit-for-purpose approach. For example, areas of contaminated soil can be capped off, or contained within one part of the site. Controls, such as monitoring ground water and gases, and preventing change of use, ensure safety in the future.
Risk mitigation has matured too. Brownfield insurance has developed into a niche, but significant, part of the market, says Vetter. "With brownfield, you have to go about things more collaboratively, and have more technical discussions around the site and what you intend to do."
Viridian's approach to insurance has changed over the years, says Lynott.
The company used to take out stop-loss or remediation cost cap insurance that covered known pollutants. Given the changes that occurred within the market as the product developed, Viridian now works with proven cleanup contractors with strong balance sheets who can guarantee cleanup outcomes.
Changes to pollution legal liability (PLL) insurance, which covers unknown pollutants, have been positive for the market, says Jostes. "We now have excess of indemnity as a rider to PLL insurance to guarantee the brownfield developer's performance. The seller can make sure a PLL is put in place with an excessive indemnity insurance should the developers fail. That's really opened the door to a lot of new competition."
One of the biggest challenges faced by brownfield developers is the variation in approaches between states.
"The biggest lesson I have learned is to be very aware of regulations, particularly those subject to change. That really is the wild card," says Jostes. "To understand regulations is to be successful."
Slow processing times threaten successful delivery in some jurisdictions, says Lynott. "The challenge is getting deals done properly, as quickly as possible. Time is the enemy of financial deals."
Some states are now alert to this issue, he says. New Jersey, for instance, has allocated experienced senior project managers who can tackle technical and commercial issues alongside developers.
Given the variety of risks beyond those in the ground, even highly seasoned players such as ELT and Viridian cannot guarantee that every development will deliver huge returns.
"We have found that we are successful in nine out of ten projects, but the nine are successful enough to weather the storm of the tenth," says Jostes, candidly. "There are always risks. But where there are greater risks, there's generally greater reward."
ePort Logistic Center, Perth
Amboy, New Jersey Viridian repurposed this former industrial area — used to produce metals, paint, and chemicals — into a Class A warehouse distribution site. One of the challenges of the 102-acre site was that many parties had responsibility for the remediation, which meant that Viridian had to ensure that liability resolution worked for all those parties as well as the new owners.
Brayton Point Commerce Center, Massachusetts
ELT acquired the Brayton Point Power Station in 2018, less than a year after it was decommissioned. A 1,200-megawatt high-voltage direct current converter, to serve a burgeoning offshore wind generation, will be at the heart of the redevelopment. Alongside the converter, a marine commerce terminal will exploit the deep-water port, which was once used to import coal, to move bulk cargo and materials for the offshore wind sector.