People in Real Estate: Taking Care of Your Occupiers, Employees, and Customers
The Real Estate sector is undergoing tremendous change, much of which had already begun to take shape prior to the current pandemic. When we think about change in Real Estate, we should not only think of bricks and mortar, we really must consider people, whether they be customers, employees or the wider community. People are the source of demand for Real Estate and providing a safe environment is critical for both occupiers and owners.
Some important ways in which people considerations will determine Real Estate trends include:
Offices Here to Stay Even with Remote Working
There has been much speculation around whether the office is finished as remote working has taken hold. Many employees have appreciated an improved work-life balance, brought about by the absence of a commute and greater flexibility in their schedules. Indeed, Oliver Wyman, a Marsh & McLennan business, has highlighted how productivity has also increased during the pandemic while employees worked from home.
If employees are satisfied working from home, and productivity has not been adversely affected, why do companies want to get people back into the office? The answer lies in the serendipitous qualities of an office and the innovation that being around others can stimulate. Over time, this would be lost if people cannot interact directly.
The Flight to Quality
Flexible work practices are here to stay but calls signaling the demise of the office are premature. Our relationship with the office will change and, perhaps somewhat counterintuitively, the office will become even more relevant although we spend less time there.
As people return to offices, and return to commuting, they will look to maximize the benefit from their time in the office. They will seek out more encounters, focus on more creative aspects of their work, and even work longer hours. As such, its value as a tool to attract and retain top talent becomes more important. 
People now have an alternative, so for an office to fulfill this function, it needs to be a place where people want to spend their time. We will see a flight to quality as larger corporates seek space in buildings that are technologically-advanced, well-managed, safe, and healthy. 
Delivering a Safe Return to Work
Companies are now tasked with creating an environment that encourages employees to go back to the office. When returning to work, of course, doing so safely is a priority. Companies who put the employee experience at the core of their people strategy are more likely to exceed their performance goals.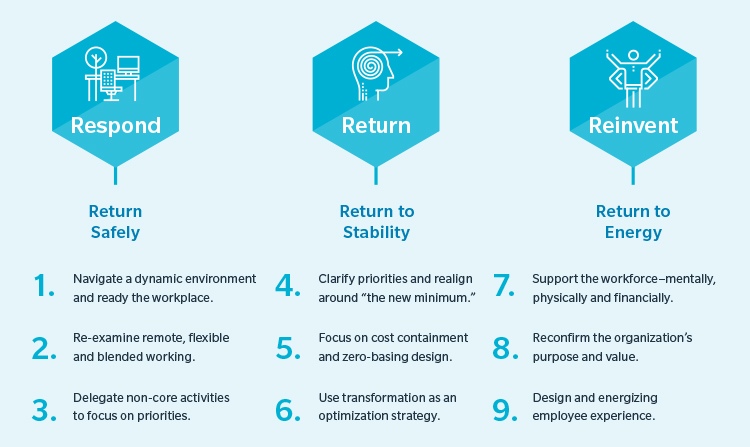 Health & Benefits Programs
An analysis of the drivers of costs, and a focus on market factors together with employee and provider behavior, will enable companies to drive value through their health and benefits programs. Getting your plan design correct is critical, ensuring that inefficiencies are removed, wastage through excess benefits are negated, and that deductibles and co-insurances are designed effectively to drive cost-focused behavior from employees, whilst ensuring that effective delivery of treatment is not impacted.
As healthcare systems return to normal, pre-pandemic illnesses will begin to re-emerge and elective treatments will begin to re-commence. Once more children return to school, more employees return to workplaces and more people start travelling and engaging in physical activity, Outpatient claims will accelerate. 
With health risks now high on the agenda, offering employees quick, easy, and safe access to healthcare will be even more important than ever before. Employees also need to return to work with resilience, including being provided with adequate psychological and wellbeing support.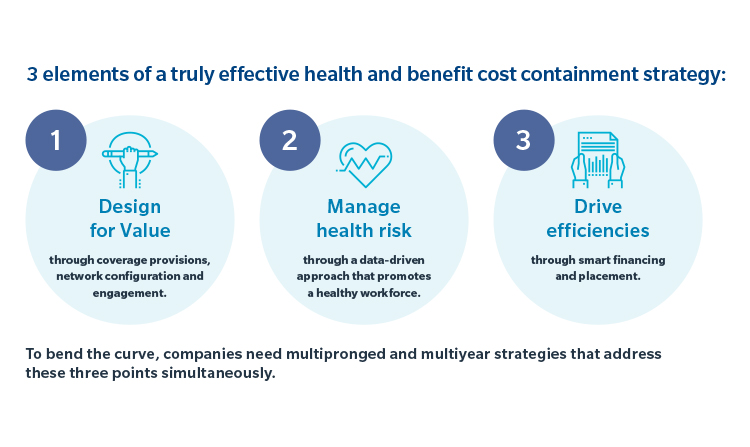 Offices were once viewed as functional and somewhat perfunctory for employees, but now play a key role in the attraction and retention of talent. By the same token, employer-sponsored health and benefit plans were previously seen as standard elements within employment packages. This has changed and employees now want to feel a greater sense of belonging and value.
Download a copy of the risk advisory to read more about how to design your Real Estate and Employee Benefits programs to be achieve synergies and allow your employees to perform at their best.