Resilience in Real Estate – Enhance your Building's Value and Valuation
The pandemic has raised much conjecture on the future of the Real Estate industry and how real estate will be used. This client advisory discusses:
Broad risk trends in the real estate industry
How risk and resilience will form a vital part of a development's value
Services that can help you build resilience and value for a development
Broad Risk Trends
Flexibility (in some form and extent) is here to stay: Residential areas or fringes of big cities may require an enhanced local offering throughout the working week while centrally located services must adapt to this change. Opportunities for mixed-use developments increase and may reshape our built environments.
Pandemic Risk Awareness: Pre-pandemic, public and private entities had been aware of the pandemic risks, but they did not fully account for it in the face of strong competition or seeking growth. The lesson learnt is clear: forecast returns prior to investment must be risk-adjusted.
Climate Change: More frequent extreme weather means buildings with a higher degree of resilience will be in greater demand, leading to higher rental levels and capital values.
More Resilience = Higher Building Value
The pandemic has raised greater risk awareness among users of Real Estate and incited a renewed focus on Business Continuity Plans. We see a flight to quality as occupiers demand greater resilience from buildings.
Instead of just insurance and risk financing, a broader approach to risk management is now the new baseline. Climate change has resulted in insurers asking more for updated risk surveys and follow-ups on risk recommendations. A property lacking resilience will suffer increasingly higher risk finance costs and impaired valuations.
Marsh Advisory Services to Build Resilience
Enterprise Risk Management & Crisis Planning: Pro-active risk control as the first line of defense for organizations to be prepared to respond, remediate, and recover, thereby ingraining resilience within the organization's systems. We assess and benchmark crisis management plans and procedures against best practices and industry standards.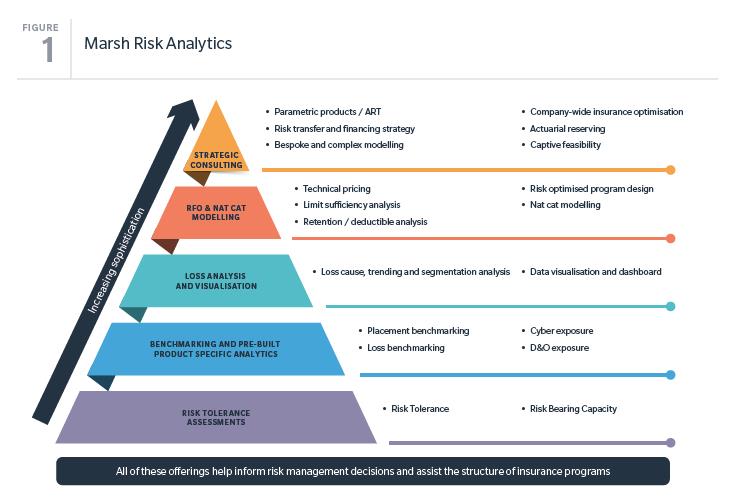 Business Continuity Management Planning: Further improve resilience by establishing the priorities, objectives, and required supporting hard and soft infrastructure to provide safety and effective communication throughout a crisis.
Insurance placement: We enable you to access local, regional and global insurers and obtain superior terms and coverage with 'A'-rated insurers.
Risk finance: Through Risk Finance Optimization (RFO) studies, you learn your optimal insurance decisions, assisting in all stages of insurance program design and placement.
Risk mitigation: Marsh offers a complete range of highly-specialized risk management services, from strategy and planning, to analysis and design. Of note is our Fire and Life Safety (FLS) Audits based on internationally accepted best practices.
Claims: Our team works significantly beyond the traditional scope of broker claims support by affording our clients access to experts specializing in advocacy, business interruption, and property claims preparation.
For the latest information on what actions can be done to manage risk effectively, and how your assets can become more resilient, please contact our industry and advisory professionals.