Marsh Awarded "Broker of the Year" Again at the Asia Insurance Industry Awards
Marsh picked up the "Broker of the Year" award for the second year running at the 23rd Asia Insurance Industry Awards (AIIA). The ceremony took place on October 29, 2019, at the Marina Bay Sands in Singapore. 

Organized by Asia Insurance Review, the AIIA is one of the most established for the industry. This year, 800 nominations from across the region competed for 17 awards. Marsh was one of only two winners who successfully held on to their titles, alongside the winner of "Life Reinsurer of the Year".

In recognizing Marsh as the Broker of the Year in Asia, the judges cited considerations including Marsh's adoption of an industry-led tailored approach towards meeting clients' specific needs, adoption of technology, thought leadership, and advocacy of the diversity and inclusion agenda in the workplace.

David Jacob, CEO, Marsh Asia, received the award on the Marsh's behalf. In his acceptance address to the 600 guests, David credited all Marsh Asia employees for their efforts, and also expressed the firm's gratitude to clients and industry partners for their support, "Through the years, you have been forthcoming in your support of Marsh's efforts and initiatives. I look forward to continuing to work with you to contribute towards the enduring success of businesses, industries, and even economies, in Asia."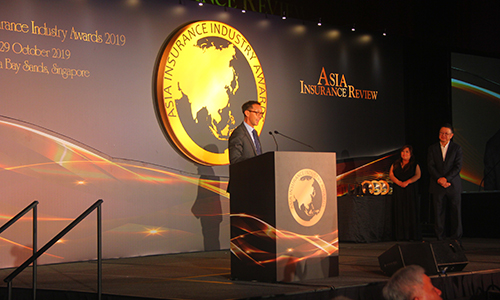 David Jacob, CEO, Marsh Asia, receiving the award on Marsh's behalf.