Marsh Awarded Global Achievement of a London Market Broker by Reactions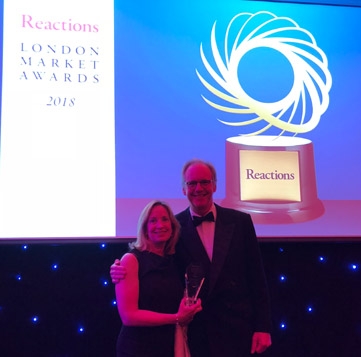 The Reactions London Market Awards took place on 21 June 2018. The annual gala dinner celebrated the top talent and companies in London's vibrant re/insurance market.
The Reactions awards are given to individuals, teams, and companies that represent the brightest and best in the London market. At this year's ceremony, Marsh was awarded "Global Achievement of a London Market Broker" for its role in the Aircraft Finance Insurance Consortium (AFIC).
AFIC provides an innovative non-payment insurance product designed for banks and capital market investors that are funding new aircraft purchases from Boeing, and protects the funder's exposure to default for the duration of the financing.
By utilising an insurance policy - Aircraft Non-Payment Insurance (ANPI) - that is integrated with aircraft loan documents, AFIC enhances the competitive supply of long-term aircraft financing and reduces the risk that an airline or leasing company may not be able to find efficient financing for their new Boeing aircraft.
The award was collected by Global Aviation & Aerospace Practice Leader Simon Harker and Leslie Kurshan, Leader, Innovative Client Solutions.