Insurance Insider shortlist Tom Davies for their Young Broker of the Year Award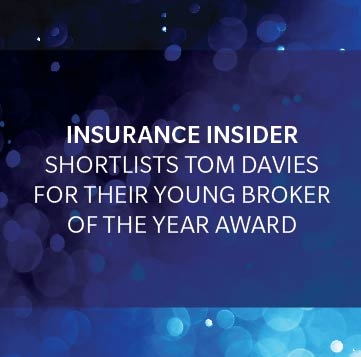 Tom Davies has been shortlisted by the Insurance Insider to receive their Young Broker of the Year Award. The award ceremony, which will take place in early September, celebrates unprecedented industry achievements and recognises outstanding individuals.
Tom, who began his career in 2011 at Marsh, now works as a Client Executive advising many of Marsh's largest and most complex energy and power clients on how to effectively manage their risks. But it is Tom's contribution to various big data projects being developed within Marsh, his involvement in the Digital Minds initiative, and his membership of the Chartered Insurance Institute (CII) New Generation programme that really caught the attention of the judges.
His contribution to various big data projects, most recently the Practice's response to the GDPR, earned Tom the title of Data Executive for the Global Energy & Power Practice. He also acts as Data Leader on one of Marsh's flagship supermajor oil and gas accounts, and is charged with developing analytics that enhance the value of the client's engagement with the insurance market.
Marsh is one of a select group of firms participating in Digital Minds' insurance programme, a market initiative that brings young thought leaders together to discuss the future of our industry and the role that technology will play in that future. Tom is one of the Digital Minds delegates, and has been a key voice in promoting a market-wide response to the opportunities that emergent and disruptive technologies present. Tom has undertaken a series of speaking engagements; recently he represented Marsh at the Digital Minds 'Broker of the Future' event in London, and led a workshop on the impact that the Internet of Things will have on the insurance industry.
As a member of the CII's New Generation programme, Tom represents Marsh among a group of selected future industry leaders that are challenged to bring a positive contribution to the London insurance marketplace. Tom and his fellow teammates are currently collaborating with various industry bodies to build the 'From Inception' website. From Inception creates a digital starter pack for new entrants to the insurance industry, bringing consistency and clarity to training and engagement.