Marsh London Colleagues Win Awards at The City Business Traineeships Graduation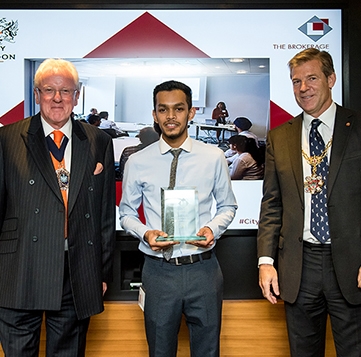 The City Business Traineeships programme, delivered by The Brokerage Citylink, presented awards to two Marsh colleagues in recognition of their contribution and achievements as part of the 2017 Marsh Summer Talent Programme.

Sophie Coventry, Financial Crime Manager within Marsh Compliance, was awarded the Project Champion Award in recognition of her contribution and support to trainees. Sophie co-managed two of this year's summer interns and also mentored a third. She received the nominations from the interns to recognise the support and encouragement she gave them throughout the eight-week placement.
 
Mohammed Uddin, one of Marsh's summer interns, won the Highly Commended Trainee of the Year Award. Mohammed spent his eight-week placement working within Marsh's Global Technology Infrastructure (MGTI) department. The award was to recognise Mohammed's strong work ethic and the positive contribution he made while on the placement.

Their awards were presented by The City of London Lord Mayor, Dr Andrew Parmley. 
 
The Marsh Summer Talent Programme, in partnership with The Brokerage City Link and Leonard Cheshire Change 100, placed 12 interns across different business areas within Marsh and Guy Carpenter. The purpose of the programme is to engage young people by providing them with an opportunity to learn about the insurance industry and gain practical work experience that will help them in their future career choices.