Marsh Wins Diversity and Inclusion Excellence Award at the Insurance Times Awards 2017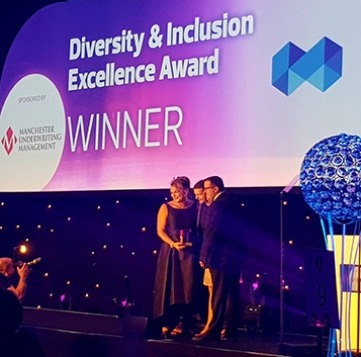 Marsh is delighted to have received the "Diversity and Inclusion Excellence award" at the Insurance Times Awards 2017.
The award recognises the outstanding contribution companies have made to create and support an environment where diversity and inclusion are valued.
Judges on the panel said: "Marsh has led the industry with its diversity and inclusion agenda, defining "inclusive" as one of its global operating principles, securing a 50/50 gender split on graduate interns, and ensuring that LGBT employees can be open about their sexuality by supporting Pride initiatives and internal colleague resource groups."
Attended by more than 1,100 guests, the insurance industry applauded the top award winners at the gala event, which took place in London's InterContinental 02, on 7 December.
The evening saw celebrity comedian, Kevin Bridges hand out awards to 33 winners in 32 categories, concluding an eventful and critical year in insurance.
The full list of winners is available on the Insurance Times website.