Derek Patience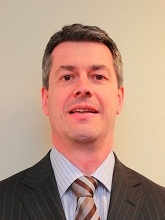 Isle of Man - Head of Office
CURRENT RESPONSIBILITIES
Derek has been head of Marsh's captive management office in the Isle of Man since 2003. As Head of Office, Derek supervises 12 staff and has ultimate responsibility for the management of over 30 client companies, the large majority of which are captive insurance companies.
Derek is a member of the Executive Committee of the Isle of Man Captive Association, and was previously Chairman from 2006 to 2009. Derek has also been a member of the Isle of Man Government Finance Steering Group since 2006. The Steering Group advises Government on strategy for the Finance Sector.

EXPERIENCE
Derek has almost 20 years captive experience having first joined Marsh in 1990 as an accountant in their Bermuda captive management unit before being promoted firstly to Account Executive and then to Director of Client Services. Derek has also worked in the oil industry and in the public sector in Scotland.

EDUCATION
Derek holds a Bachelor of Arts degree in Business Studies from Robert Gordon's Business School in Aberdeen, Scotland and is an Associate Member of the Chartered Institute of Management Accountants.