Save the Date
October 14–15, 2020 | The Ritz-Carlton, Chicago, IL
Join us for Marsh's 2020 Global Real Estate & Hospitality Conference. This conference provides an opportunity for Marsh's real estate and hospitality risk professionals to meet with a range of industry leaders and insurers to discuss the latest trends and hot topics in risk management. With a wide variety of speakers on the agenda, the conference is designed to stimulate discussion and introduce participants to resources that may help them address emerging issues that could affect their risk management strategies.
Our 2020 conference, will bring together global industry leaders and key influencers to discuss the complex and evolving risks faced by real estate and hospitality companies. Through presentations, panel debates, and roundtable sessions, our conference will provide insight into how leading real estate and hospitality companies are navigating evolving risk challenges and demonstrate how they should capitalize on risk and volatility to create growth.
In a constantly evolving world, one dominated by rapid change, our attendees can use this conference as a forum to consider and debate key areas of risk.
Objective
The key objective of this conference is to provide a platform for the world's leading real estate and hospitality companies, together with their trading partners and other industry stakeholders, to discuss the myriad of risk challenges they face, identify opportunities for improvement and learn about cutting edge risk management tools and methods.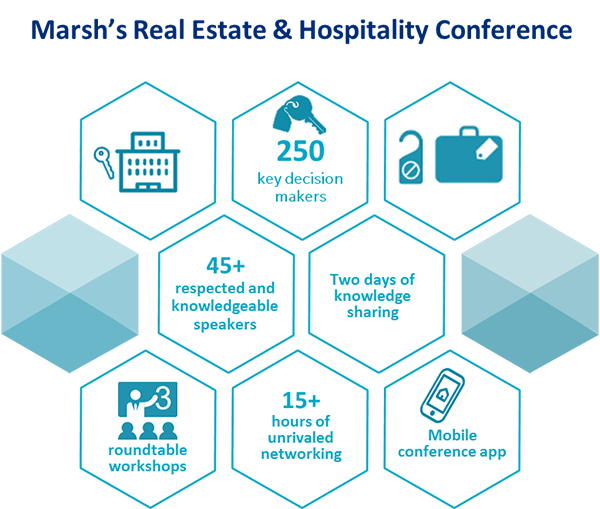 Travel Details
Attendees are responsible for their own hotel and transportation arrangements. Marsh has a room block for this event. Details on how to book a hotel reservation will be sent with the formal invitation. 

We look forward to welcoming you to the 2020 Marsh Global Real Estate & Hospitality Conference.