Strengthening Business Resilience & Continuity for Retail, Restaurant, Food & Beverage Companies

The COVID-19 pandemic, along with civil unrest, an active hurricane season, and wildfires tested retail/wholesale, food and beverage companies' business resiliency.
But organizational resilience encompasses more than business continuity planning and the capacity to absorb negative events. Beyond the ability to recover quickly from and respond to events, resilience enables organizations to both foresee upcoming threats and capitalize on opportunities.
A risk resilient organization is able to minimize losses and quickly resume business as usual following an event — and more. A risk resilient organization has a strategic competitive advantage over less-prepared peers because it seizes growth opportunities during times of operational and/or financial stress.  Earlier this year, Marsh surveyed over 1,000 global clients across 30 industries on their resiliency strategies and revealed four key steps companies can take to build a more resilient business in our recently published Marsh Risk Resilience Report. Take action to get ahead of your company's unique resiliency challenges by downloading the below business resiliency planning guide tailored to the pain points retail, food and beverage companies face.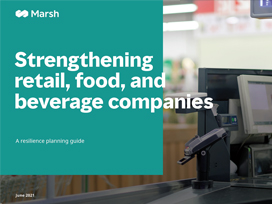 A Business Resiliency Planning Guide for Retail, Food & Beverage Companies - Download now.
---
To learn specifics about how retail, food and beverage companies can become more resilient, continue exploring this page.

Recently Marsh Advisory Consulting Solutions hosted a complimentary one-hour webinar – The Road to Business Resiliency. To view a recording of the webinar please click here.
Discover how companies say they are building resilience from our latest case study: Download
Watch New video: How retail, food and beverage companies are strengthening their resiliency plans