Employment Practices Liability and Wage and Hour Risks: Five Trends to Watch
Expanded workplace requirements and employee protections. Court decisions. And new laws. Risks related to employment practices liability (EPL) and wage and hour are shifting, and only expected to to continue on an upward trajectory. Before being able to take the necessary steps to limit their liability, employers must understand the source of their biggest risks.
In our briefing on EPL and wage and hour risks, you'll learn about the most pressing trends affecting employers today.
1.

#MeToo's Lasting Impact

The #MeToo movement has had profound societal effects, and prompted legal and regulatory shifts as well. For the year ending September 30, 2018, sexual harassment charges filed by employees with the Equal Employment Opportunity Commission increased 14%. Monetary benefits and government enforcement of sex-based discrimination have also increased. And 15 states — along with the City of New York — have passed new protections against workplace harassment and discrimination since the start of 2018.
State and Local Governments Enacting New Legislation Spurred by #MeToo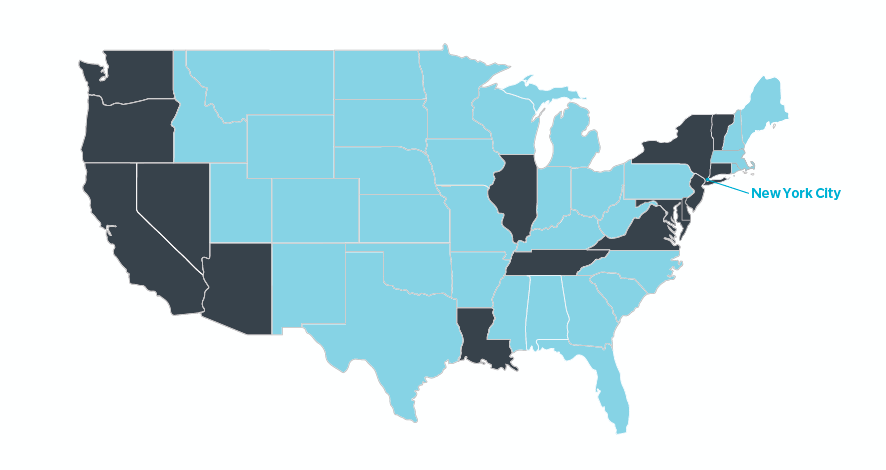 Source: National Women's Law Center
2. Clarity on LGBTQ Protections
Currently, 22 states prohibit employment discrimination based on sexual orientation and 21 prohibit discrimination based on gender identity. Legal protections for millions of LGBTQ workers in states and localities without similar protections will hinge on a forthcoming Supreme Court ruling, expected in mid-2020, on whether workplace discrimination based on sexual orientation is covered by Title VII of the Civil Rights Act of 1964.
3. More Employees Eligible for Overtime
A new Department of Labor (DOL) rule set to take effect January 1, 2020, addresses the salary level needed for so-called "white collar" workers to be considered "exempt" and therefore not entitled to overtime pay. Under the updated rule, the salary threshold will increase from $455 a week ($23,660 annually) to $684 a week ($35,568 annually). According to the DOL, the new rule will extend overtime protection to 1.3 million additional workers.
4. An Epic Decision
In one of the most important Supreme Court decisions affecting employment in the last two decades, the Supreme Court ruled in May 2018 that companies may limit their employees' ability to participate in class action litigation. Resolving a tension between the Federal Arbitration Act and the National Labor Relations Act, Epic Systems Corp. v. Lewis established there is no longer any impediment to employers requiring employees to waive their ability to bring class or collective actions under US employment laws.
Epic has already limited class and collective action litigation, particularly under the Fair Labor Standards Act (FLSA). But employers must still be vigilant.
5. Illinois' Biometric Law Spurs Litigation
Over the last 18 months, scores of employers have been targeted with class action lawsuits alleging violations of Illinois' Biometric Information Privacy Act (BIPA), stemming from their use of "biometric time clocks" in the state. A recent Illinois Supreme Court ruling held that an individual can obtain statutory damages when the only injury is a "bare" or "technical" violation of the notice-and-consent requirements under BIPA, so these claims are not going away.
Read our full briefing for a deeper dive into how these trends could leave a lasting impact.