The Six Cs of Captive Value: Focus on Control
Companies form captives for many reasons, but one that is sometimes overlooked is control. This "C" actually defines what a captive can do for an organization as the very act of forming a captive gives an organization a high degree of control and a more disciplined way of managing and financing risk.
 As the primary insurer, a captive insurance vehicle can tailor its cover (policy language), manage claims, and obtain subsequent reinsurance to ensure that the organization enjoys the widest possible coverage at the best price in a fully transparent manner. When an organization establishes a captive, it gains control of premium dollars from the commercial insurance market — and the ability to take on higher retentions.
Reasons for Forming a Captive Insurance Vehicle — The Six Cs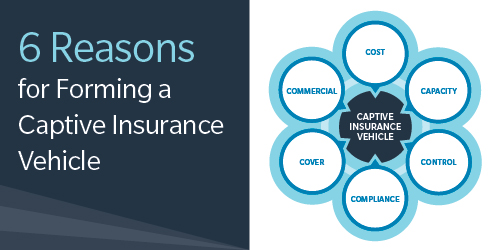 Custom-Made Policies
As formally regulated vehicles, captives enable organizations to design custom-made insurance policy forms for traditional or non-traditional risks such as cyber or supply chain. Captive owners typically use such control to provide cover for perils excluded or not covered by third-party insurers.
There are also instances where a captive's policy terms differ from overlying insurers or its reinsurers. In other cases, the benefit provided by the captive may focus on other aspects of control.
For example, during their past renewal, XYZ Company found out that its longstanding excess liability policy would not be renewed by ABC Insurance Company. A different insurer, 123 Insurance Company, issued a new excess policy for XYZ and its subsidiaries. Historically, ABC afforded XYZ the opportunity to retain control over the defense of claims. XYZ's main concern with the new excess program with 123 was whether they could continue to use their own counsel to litigate and control claims.
To maintain control, XYZ used its existing captive as a full front, while reinsuring a portion out. This control-focused approach allowed XYZ to maintain current (preferred) business practices. Such an approach can help organizations with well-established claims management practices rely less on third-party insurers while providing the additional control they seek.
Control is but one of the many benefits a captive can offer. If you think a captive vehicle would benefit your organization, work with your tax and accounting teams and other advisors to determine the setup that meets the unique needs of your organization.