As Remote Work Takes Hold, Employers Must be Ready
The health threat of COVID-19 is fading in the US, but the pandemic will likely drive lasting change, including in how we work. After an initial adjustment period, employers and employees are embracing remote working, and now see it as the way of the future. While that can be a net positive in many ways, it's important for employers to be ready to manage associated risks, including the prospect of compensable injuries occurring in employees' homes.
Remote Working Challenges
In March 2020, unprecedented lockdown and stay-at-home orders were enacted as the novel coronavirus rapidly spread across the US and other countries. This forced many companies to wade into uncharted waters: shifting the majority of their employees — or, in some cases, all of them — to full-time remote work.
In the pandemic's early days, C-suite executives, department heads, and managers wondered whether employees would remain productive while working from home. Did employees have the right tools to do their jobs? Could they avoid distractions? Would technology systems withstand the new demands on them?
Those early fears largely proved to be unfounded. 90% of US employers surveyed by Mercer in summer 2020 said their employees' productivity had not suffered amid the transition to remote work — and in some cases, had improved.

Working from home, however, can have drawbacks. A study of office workers published in the Journal of Occupational Environmental Medicine in March 2021 highlighted a number of negative developments associated with full-time remote work amid the pandemic. Among other challenges, remote workers:
Communicated with each other less than they did prior to the pandemic.
Exercised less and were otherwise less physically active.
Spent, on average, 1.5 hours more each day at their workstations.
Faced a number of distractions in their homes, including children and pets.
The New Normal
Still, providing employees with more flexibility — including the option to work from home more regularly — is set to be a lasting legacy of COVID-19. Mercer research shows that, globally, one in three companies anticipate half or more of their employees working remotely post-COVID-19 — a dramatic change from prior to the pandemic (see Figure 1).
It's not just employers who expect remote working to continue. More than half of American workers surveyed by the Pew Research Center in October 2020 said they want to work from home all or most of the time after the pandemic ends; only 20% reported doing so before COVID-19.
There are several reasons why remote work will persist — at least for office-based professions. One prominent driver is cost: By allowing employees to work from their homes in sizable numbers, employers can reduce their real estate footprints and operating expenses.
Another is to attract talent. Flexible work arrangements have long been a perk offered by some employers. But they can also be a key to unlocking potential in previously underrepresented candidate pools, especially as more employees focus on diversity, equity, and inclusion.
Despite these benefits, however, employers must be mindful of the potential risks that come with remote working. That includes the possibility of employee injuries in their new home office settings.
Growing Pains
Perhaps unsurprisingly, the transition to remote work amid the pandemic was not entirely smooth for workers. More than 40% of Americans surveyed by Chubb in May and June 2020 reported feeling new or increased shoulder, back, and wrist pain since they began working from home (see Figure 2). Interestingly, the age group that reported the biggest uptick in pain was also the youngest — workers aged 20 to 35.
These numbers line up with historical remote working injury trends. Prior to COVID-19, repetitive stress injuries, slips and falls, and mental health issues were the most common workers' compensation claims filed by telecommuters.
Employers should expect these to remain the leading claims types for remote workers post-pandemic. They should also be mindful of the fact that musculoskeletal disorders, such as carpal tunnel syndrome, tendinitis, and muscle strains, could take years to develop.
One potential reason for the uptick in joint pain during the pandemic — and a possible long-term concern for employers — is poor workspace design. 43% of Americans working from home during the pandemic have used dedicated offices; 48% favor bedrooms, living rooms, and kitchen tables (see Figure 3).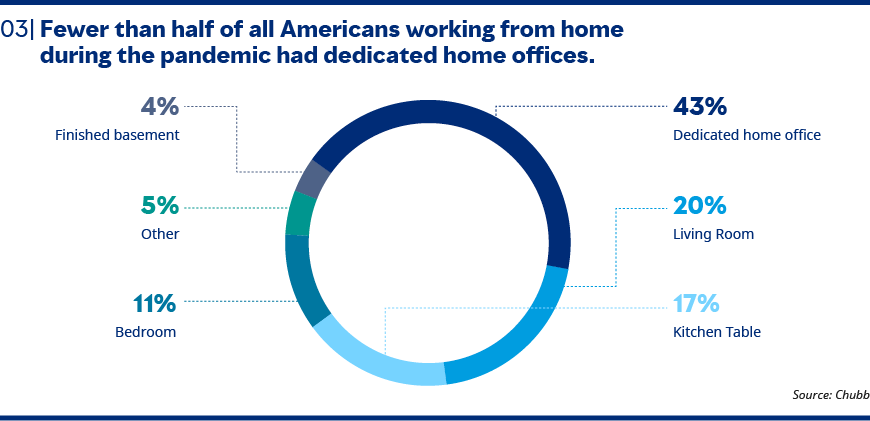 Working from one's bed, kitchen table, or sofa may be convenient in short spurts, and necessary for workers whose homes are not designed to double as a primary workspace. But it often means that employees are using less-than-ideal working setups that could lead to poor posture and added stress on their bodies.
Moreover, ad hoc or poorly planned workspaces could give rise to injuries because of other hazards, such as loose computer cords and furniture. Workers using such setups could also see their work/life balance suffer and be more easily distracted — another potential driver of injuries.
Building Effective Telework Policies
Employers that expect large portions of their workforce to remain remote post-pandemic should develop clear policies and agreements that outline their expectations for such employees. This starts by defining who is designated as a telecommuter — for example, by determining a minimum percentage of time that needs to be worked from a home office.
A telecommuting policy should include:
Eligibility criteria. Clearly outline who qualifies to work remotely. In cases where the opportunity to work remotely is not being offered to all employees, explain the rationale behind this decision.
Work hours and productivity expectations. Define the working hours of telecommuting employees, especially if they have flexible schedules, and outline productivity expectations, clarifying how their output will be monitored.
Specific guidelines for remote working arrangements. Clarify whether any particular work arrangements are required — for example, whether remote workers must have designated work areas that are separate from their living spaces and/or uninterrupted access to high-speed internet, work delivery schedules, hours of guaranteed availability, and performance evaluation criteria.
A Focus on Ergonomics
As companies adapt to working from home becoming a permanent feature of their workplaces, it's imperative that they take steps to limit the frequency and severity of injuries to remote workers.
A first step is to identify, mitigate, and resolve specific issues that could contribute to pain or discomfort before they escalate to work-related injuries and workers' compensation claims. Coupled with specific safety measures (see sidebar), this could theoretically make the risk of injury to employees working from home no greater than it would be if they were working in office environments.
Although every employee will be working in a unique setting, employers can share guidelines to help workers tailor their environments to fit their needs and resources. Special emphasis should be given to neck, shoulder, and wrist posture.

Web-based training can similarly help employees to optimize their workstations. Online training sessions can highlight common ergonomics and safety issues associated with remote work and best practices for easing discomfort, including taking regular breaks.

Ergonomic specialists can also conduct virtual assessments of an employee's specific circumstances and equipment. This can provide workers with constructive advice on how they can improve their workspaces and limit the likelihood of injury.
Remote Working Safety Checklist
A number of safety measures can help remote workers to limit the frequency and severity of injuries at home. Employers should work with remote employees to ensure they have clearly defined workspaces that are free from distractions, obstructions, and clutter. Employees should also ensure they have:
Appropriately designed desks, computers, and other equipment to eliminate strain in accordance with ergonomic guidelines.
Ergonomic chairs.
Adequate lighting.
Good ventilation and temperature control and working smoke detectors and fire extinguishers.
Secured phone lines, electrical cords, and extension wires.
Electrical equipment that is free of recognized hazards, including frayed, loose, or exposed wires, and sufficient electrical outlets to support them.
Easily accessible first aid kits and emergency contact information.
Understanding Compensability
Even as they take steps to mitigate injury risks, employers must be prepared for the possibility of workers' compensation claims filed by their employees. Before any such claims develop, they should review workers' compensation statutes, policy language, and relevant case law to understand the circumstances under which coverage may apply.
Although statutes vary by jurisdiction, injuries that occur while an employee is working from home will generally be considered compensable if it both:
Occurs while the employee is in the course and scope of their employment.
Is directly related to the performance of work rather than to the employee's general home environment or setting.
Existing case law on remote work is limited. As often occurs amid major events that affect corporate operating models, however, a new legal standard on the issue could soon develop as more employees work from home and workers' compensation claims are filed.
In the absence of such a standard, whether an employee's specific injury should be considered compensable largely hinges on the following questions:
Did the alleged injury occur at a time the employee would not normally be working?
What specific activity was the employee engaged in at the time of the alleged injury?
Did the alleged injury involve another person who did not have anything to do with the employee's job duties?
Getting Ready for Claims
Although the process of managing a remote worker's claim is largely the same as it is for managing a claim for an injury occurring in a company office, there are some nuances. Before a claim arises, it's important for employers to work with their insurers and third-party administrators (TPAs) to establish specific protocols for remote working claims, with a focus on:
Reporting timelines. Employers should emphasize that injuries must be reported within an established period of time — preferably, within 24 hours.
Investigative processes. Injures occurring at home will often not be witnessed by others, making it difficult — if not impossible — to disprove that an injury occurred in the course or scope of employment.
In the event of a claim, it is important to document the precise location and time of injury. Employers should also seek to direct injured workers to effective providers, as early treatment can help to accelerate recovery. Where possible, consider making use of telehealth options.
As they manage claims, employers should focus on employees' wellbeing and demonstrate that they care for them. A more collaborative approach to workers' compensation claims — characterized by communication, education, and transparency — can contribute to better outcomes.
Lastly, employers should consider post-loss strategies. Employers should be creative in return-to-work accommodations for workers who do not typically work in offices. Sharing an employee's job description and physical job demands with health care providers and providing ergonomic support to employees when they are ready to resume work can help to accelerate recovery for workers and reduce costs for employers.