Alan Cheah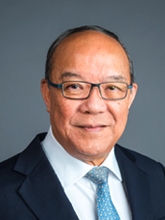 Chairman, Asia
Alan has had more than 35 years working in senior leadership roles within the Singapore and Regional insurance markets.  He has been both an underwriter and a broker. He spent 7 years (1971 -1977) with the Royal Insurance Group including time in UK where he focused on underwriting, claims, client servicing and business development.

In 1977 he joined Sedgwick Forbes and worked his way through various operational and management roles culminating in his appointment as Regional Managing Director for South Asia in 1995.  Following the acquisition of Sedgwick by Marsh in 1998 he continued in this role for the merged entities.

Alan left the group in 2000 and re-joined in 2006 to lead the Singapore operations as its Chief Executive.  He was subsequently also given responsibilities to head the group's operations within Southeast Asia in 2007 and for the whole of Asia in 2008.

Following the Group's decision to merge its Asia and Pacific operations in 2013 Alan was again tasked with responsibilities for Southeast Asia as Chairman of the region plus assisting the regional management team in identifying merger and acquisition opportunities for the group in Southeast Asia.

In September 2016, Alan was appointed Chairman, Marsh Asia. In this position, Alan assists the Marsh Asia CEO in identifying M&A opportunities, leading geographic expansion, identifying and developing talent, stewardship of major client relationships, and providing board and regulatory representation. He is also the Chairman of the Marsh & McLennan Companies in Singapore – a position he has held since June 2015.