Leslie Mouat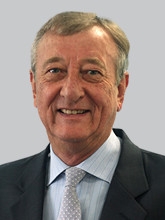 Chief Executive Officer, Vietnam
Mr Mouat has worked for American International Group for 32 years in a number of senior management positions before joining Marsh Vietnam in 2013 as Chief Executive Officer.
At AIG, he held the following positions. 
1982-1986 Managing Director – Papua New Guinea.
1986-1989 EVP and General Manager – Hong Kong.
1989-1992 President and CEO- Philippines, responsible for 5 Group Companies.                   
Elected Chairman of the Philippines Rating Association and Technical Committees. 
1992-2003 Chief Executive Officer for AIG companies in Thailand.                     
Appointed in 1992 to lead AIG delegation to explore opening Life and Non-Life Companies in Vietnam. Obtained 100% foreign owned licenses in 1996. 
2003-2010 Promoted to Regional President for ASEAN, based in Singapore. Responsible for AIG operations in Singapore, Malaysia, Thailand, Philippines, Indonesia, Vietnam, Guam and Micronesia.
In 2006 his role was expanded to include Hong Kong, Taiwan, China and AIG's investment in PICC. Lead a team of over 6,000 employees in a multi- billion dollar region, achieving consistent growth in both revenue and earnings.                      
Mr Mouat also represented AIG at US ASEAN Business Council, APAC, guest speaker at a number of industry conferences and awarded Asia Insurance Review " Personality of the Year " in 2011 for services to the insurance industry. From 2010 to 2013, he served as Chairman for AIG Asia-Pacific Region covering 16 countries, 22,000 employees and 11 billion dollars in revenue.
From 2013 to present, Mr Mouat is serving as the Chief Excecutive Officer in Marsh Vietnam.