Rohan Bhappu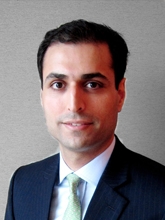 Chief Executive Officer, Marsh (Hong Kong) Limited
Rohan Bhappu was appointed the Chief Executive Officer of Marsh (Hong Kong) Limited in December 2018. Rohan's insurance experience of 17 years spans across a number of Marsh practices & geographies with a focus on growth.

Rohan joined Marsh in August 2002. During this time he was first part of Marsh's Middle Market and then Casualty Practices. Rohan also worked in helping companies evaluate captives as a risk financing option.
In 2004 Rohan moved to New York to be part of the Private Equity Mergers and Acquisitions practice. He worked closely in managing and advising some of Marsh's large global relationships. He worked on over 100 transactions across industries and deal sizes.
In 2006 Rohan moved to Mumbai, India to set up and lead the Private Equity Mergers and Acquisitions practice in India. Rohan was responsible for placing one of the first Reps and Warranties and Tax Opinion Liability policies in India and played a key role in developing the product for the Indian market. In 2009 Rohan assumed responsibility of the Sales practice in India and in 2010 the Key Account Relationship team and in 2011 oversight of setting up the Hyderabad office. Being primarily responsible for the growth functions, Rohan was instrumental in the outpaced expansion and development of our Marsh India businesses.
In 2013, Rohan moved to Hong Kong to assume responsibility for Private Equity Mergers and Acquisitions practice in Asia-Pacific where he successfully expanded the franchise, client offering and team across the region.
In 2017, Rohan moved to Singapore to lead Marsh's Sales business across Asia. In 2018 Rohan was given responsibility for the Industry practices in Asia where he was responsible for building out Marsh's market leading industry platform.
Rohan is married with two children and enjoys playing squash in his free time.  Rohan holds a Bachelor of Arts degree in History from Trinity College.