Grow your business and competitive advantage during an uncertain economic outlook
Companies across all industries are facing exceptional challenges due to the current economic crisis caused by COVID-19. Many companies are dealing with significant payment delays of their receivables that can cause cash flow challenges and concerns around their debtors.
More often than not, companies continue to hold on to receivables that remain unpaid over 180 days or more in the hope of collecting these delinquent debts. However, leading credit insurers predict that insolvencies will rise significantly in 2021 and 2022 and further increase the risk of non-payment. 
This uncertain outlook has led to most companies experiencing an increase in delayed payments, impacting their own cash flow.
How can Trade Credit Insurance help?
Companies with increased liquidity and credible information around their debtors will outperform their competitors and emerge as strong and profitable winners of the crisis.
Trade credit insurance provides businesses the ability to sell more products or provide more services to existing customers or expand to new customers that may otherwise have devastating impacts on the cash flow and profitability, should the customers delay or fail to pay due to insolvency or political events.
As companies are expanding their operations across geographic boundaries, ensuring timely payments is becoming more challenging. The rapid rise of emerging economies and intensified competition has increased the demand for aggressive credit terms by clients. Unfortunately, the harsh reality for businesses means there will be times when some customers cannot make their payments or will delay doing so.
Insuring accounts receivables from unforeseen losses due to non-payment is critical to a business's survival, enabling them to deliver sustainable and uninterrupted growth during unpredictable economic cycles and in volatile global markets. 
Benefits of Trade Credit Insurance
Increase sales and grow market share
Trade Credit Insurance enables companies to extend more credit to customers while reducing the risk of non-payment, thereby promoting secured sales expansion, for example, expanding to new geographic areas and reducing dependence on L/C's.
Credit insurance may be accepted as collateral to improve lending facilities with financial institutions. This can potentially deliver additional funding capabilities to support a company's growth.
Many public firms have used Trade Credit Insurance as a strategic solution to enable profitable growth and an assurance to shareholders that their large key assets on the balance sheet are protected. Accounts receivables may constitute upwards of 40% of assets on the balance sheet.
Mitigate losses from buyer defaults caused by insolvency, non-payment or political events.
Marsh Specialty Trade Credit Practice

Global footprint to enable ease of business
With a global network of 400 dedicated and award-winning trade credit specialists spanning across 52 countries, Marsh Specialty Trade Credit Practice has experts who understand the culture, language, regulations, industry practices and economic landscape in every country where business is established to help companies manage receivables risk by providing access to credit insurance solutions. For multinational companies, our internationally coordinated Global Client Group's team facilitates credit placements across the 52 countries.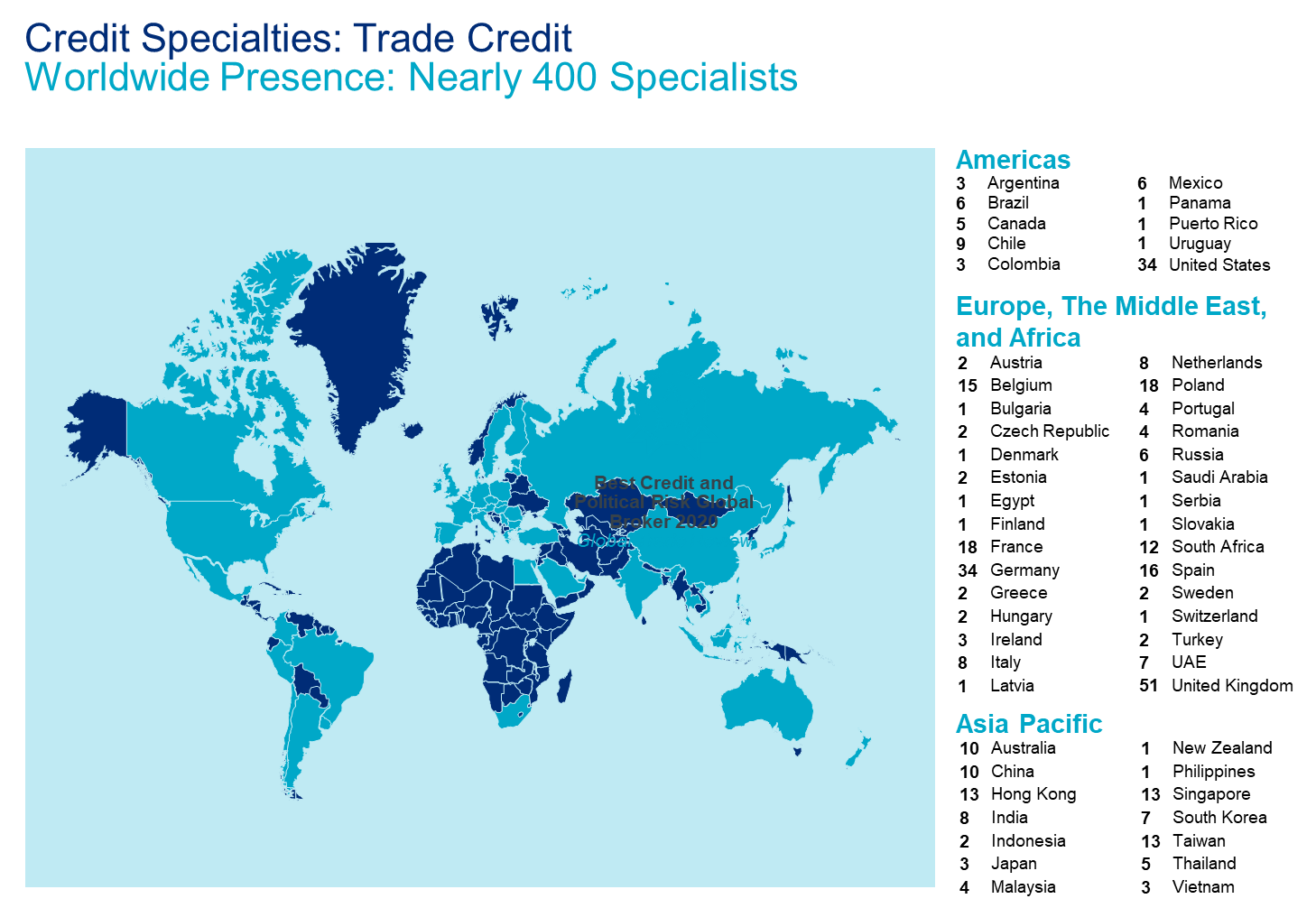 Longstanding carrier relationships
Leveraging Marsh's longstanding global relationships with insurers, Marsh Specialty Trade Credit Practice can provide insurance terms and develop program structures that maximize your protection against uninsured non-payment. In addition, our multinational service team provides claims management and advocacy services that help to ensure compliance with local insurance laws.
Recognized Credit Specialty Practice in the industry
Marsh is a global leader in insurance broking and innovative risk management solutions, awarded by Global Trade Review as the winner for the Best Credit and Political Risk Global Broker Award in 2020 and Leaders in Trade for Sustainability Award in 2021.