Marsh's global Education practice represents more than 1,500 institutions across a diverse range of structures. This equates to the placement of more than 4,000 education policies which form the basis of our education sector benchmarking and analytics. We represent a large number of schools and colleges within Australia and New Zealand, including schools affiliated with church organisations. 
We have developed a suite of risk and insurance services to help address your challenges and safeguard the future of the schools we work with.
Globally, our education practice serves the risk management needs of thousands of education clients, including seven out of eight Ivy League institutions as well as independent schools, teaching hospitals, special needs schools and global universities. Each year, we place over $300 million US of premium for education clients.
We have a strong track record of helping education clients navigate complex and emerging areas of risk. For example, in the United States we currently manage Cyber insurance programs for more than 80 education clients and placed in excess of $13 million US of cyber premium for education clients in 2017.
In addition, our local team has dedicated experience in working on the Duke of Edinburgh International (Australia) insurance program nationally, and has specialised knowledge on the risk and insurance requirements placed on schools who participate in the Duke of Edinburgh awards.
When considering the risk and insurance needs of various schools, we recognise that although each school has its unique risk profile, there are some key areas of risk that are common across all educational institutions. These include, but are not limited to: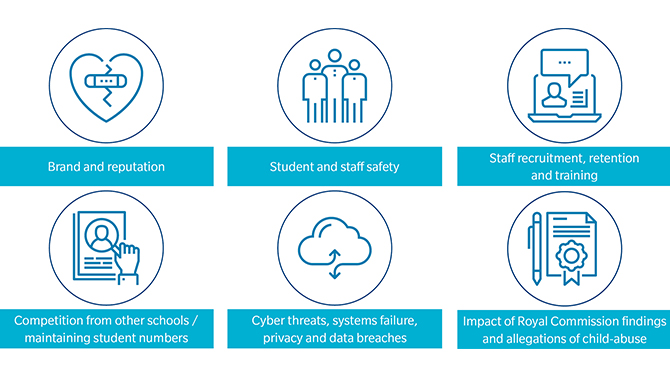 The information contained on this page provides only a general overview of subjects covered, is not intended to be taken as advice regarding any individual situation and should not be relied upon as such.