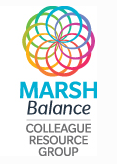 Our purpose is to support the advancement of women's careers at Marsh by creating a gender inclusive workplace, where gender is not a barrier to fulfilling career or personal aims.
Continue to educate colleagues on LGBTQ+ issues through Lunch & Learns and Inclusive Language Training.
As such, our mission is to ensure all our colleagues reach their own full potential and build a culture of mutual respect, dignity and diversity that benefits our colleagues, clients and communities, and helps drive wider industry change.
We aim to achieve this through:
Working with the business to proactively advance women's careers at Marsh, supporting professional development, awareness of women's issues, commenting on policy and strategy from a gender perspective.
Supporting Marsh on industry-wide gender related issues such as the Gender Pay Gap and the Women in Finance Charter.
Arranging topical and relevant events, for colleagues, clients and our wider network, aiming to reach as many participants as possible in the most cost effective way.
Networks with other gender related networks in the insurance industry and wider financial services industry and other MMC Operating Companies to share best practice and share learnings.
Key achievements so far
MMC is proud to be signatory of the Women in Finance Charter, with the support of Balance CRG. As part of our commitment to the Charter, our goals are to achieve at least 25% female representation in our senior management population by 31 December 2023.
Following the integration of colleagues after the acquisition of JLT on 1 April 2020 we have seen a nominal decrease of 0.1% in our senior female representation, resulting in 20.8% of our senior management population now being female. This has been driven primarily by the substantial change to the population we are now reporting on.
Working with Senior Management on Gender Pay Gap (GPG) - year on year comparison.
ISC Aspire Group Coaching programme 2020 – pilot programme for the first Marsh cohort
6 months group coaching programme for high potential female Vice Presidents
Bespoke Mentoring Event
6 group coaching sessions
Annual events for clients
2018: The Balancing Act: Why Gender Diversity and Inclusion Should be on Your Risk Agenda
2019: Enhancing Women's Financial Resilience
2020: Beyond Lockdown: A time for Positive Change in Workplace Gender Equality, a panel discussion moderated by Ailsa King featuring speakers from The Girls Network, UN Women, Mercer and FAMN, focussing on whether this time can the time for positive change in workplace gender equality.
#MotherWorks two-week photography exhibition by Fiona Freund in St Botolph Building in London celebrating the duality of the lives of working mums and featuring three mums from Marsh.
Coronavirus: Child Matters, a webinar organised at the start of lockdown run by Educating Matters on how parents can manage their own wellbeing while their children are at home during coronavirus.
Colleague events
Real Role Model Lunch & Learns, where female leaders from the UK business talk in a safe informal setting about their personal career journeys and share advice and answer questions.
Virtual Film Club: launched during lockdown for colleagues. A film is suggested to be watched at people's own time, and then we all come together to discuss.
International Men's Day, Fatherhood Matters: Celebrating Modern Dads, a webinar run by Educating Matters celebrating International Men's Day focusing on fatherhood during coronavirus.
Regular communications to the Balance community; publicising materials, events and issues of interest to colleagues through the internal intranet and bi-monthly newsletter.
Plans for the future
Management training: Making Sure Everyone is Heard, Unconscious Bias, Managing Remotely.
Supporting HR: Policies family friendly policies and transparency of process around opportunities
Community: The Girls Network partnership
Female Talent Strategy: Next Aspire cohort, female leadership programmes
Further events for colleagues and both clients and prospects
Colleagues speak about their reason for participation and the difference the group has made across Marsh:
"We are making great progress in driving improved diversity and inclusion here at Marsh and across the insurance profession, but we still have a way to go to ensure that all women feel fully supported to have an equal opportunity to pursue leadership careers. As executive sponsor of Balance and Marsh signatory to our Women in Finance Charter commitments, I relish working alongside colleagues to drive even faster progress in our talent development programme."
— Ailsa King, Chief Client Officer and Balance Exec Sponsor
"It is a privilege to be part of the Aspire Leadership Coaching pilot programme organized by the ISC in partnership with Marsh and FAMN. Group coaching is a truly powerful tool as it helps you to unlock your potential in order to reach your maximum capabilities. There is a deep connection developed between the participants where you are encouraged and feel supported to become your true self."
— Salome Santos, Aspire programme participant and Balance Networks and Memberships Leader