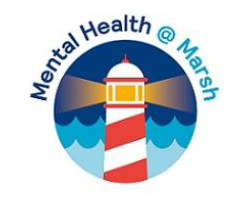 Mental Health @Marsh is a dedicated Colleague Resource Group that strives to make Marsh a happier and healthier workplace by creating awareness, providing support, and supplying resources to colleagues.
We achieve this by:
Being inclusive for all, not just those that are manifesting as sick
Encouraging personal ownership and personal responsibility for mental health
Being visible to colleagues and being part of the firm's values
Recognising diverse issues and concerns such as gender identity, sexual orientation, and family relationships
Encouraging open and honest conversations between colleagues to help break down the stigmas.
Key achievements so far:
Recognised by The British Insurance Awards, The Insurance Insider Honours, and Dive In Impact Awards for our Diversity & Inclusion contributions within Marsh.
Led the initiative to train Mental Health First Aiders across the UK and Ireland as well as introducing pilot schemes for management awareness training.
Signature events on specific topics, such as PTSD.
The Breakfast Club: informal coffee shop discussions hosted by senior colleagues who openly talk about their own personal experiences.
Webinars with external professionals on subjects such as managing anxiety, sleep clinics, and food and fitness.
Lunch & Learn sessions where colleagues share their own experiences including OCD, sleep disorder and second-generation survivor guilt.
Regular colleague led fitness sessions including yoga, running and tai chi.
Plans for the future
We will continue to meet the evolving needs of our colleagues by providing confidential support and a platform to discuss their personal experiences.
Expand our network of MHFAs across MMC in the UK.
Explore relevant topics that adapt with us, in the new way of working: food, fitness, sleep, tech Lunch & Learns from external speakers
Continue to collaborate with other CRGs and MH networks across the insurance market.
Colleagues speak about their reason for participation and the difference the group has made across Marsh:
"I wanted to participate so I could help people following my spell as a volunteer. We have made such a difference across Marsh with people now more willing to open up and share their stories and problems. I hear nothing but positive feedback."
— Justin Grant
"This group has supported me whilst I have been going through a very difficult time in my personal life. This made me want to give back to my colleagues, to use my experiences to support people where I can and to bring the topic of Mental Health out into the open by normalising and talking about issues that affect many people.
— Niki Haynes
"I joined because I want to help others in whatever situation they find themselves in. The group has made a huge difference to the company, individuals and we all connecting more."
— Victoria Harrison
"Mental Health both in the workplace and in general still seems to be an area that a lot of people are not comfortable discussing. As a Mental Health First Aider at Marsh my aim is to help demystify this and to help people feel more comfortable about asking for support when they feel they need it."
— Eric Alter
"To change the attitudes surrounding Mental Health in the work force, and provide accessible help to those in need."
— Leah Kalisky