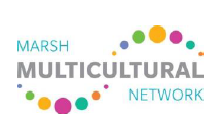 As the world's leading insurance broker and risk advisor, our commitment to inclusion and diversity is critical for attracting talented people, serving clients, and generating creative business solutions.
We seek to shape a workplace where colleagues feel valued and are embraced for their individuality. Our approach to inclusion and diversity is driven by deliberate diversity, facilitating a culture of inclusion and understanding, and enhancing the colleague experience working together to create a more diverse and inclusive work environment for all while celebrating the diverse cultures and ethnicities within our organisation.
We strive to be the employer of choice in our industry by creating an inclusive environment, where every colleague is valued, respected, and heard.
We aim to achieve this through:
By creating an open and fair environment for all colleagues to learn, share and develop understanding of our diverse and global colleague community and international client base.
Enhancing successful working relationships and drive personal and professional growth of all colleagues irrespective of their diverse background.
Key achievements so far:
We have secured senior commitment from the UK&I senior executive team and our executive sponsors to deliver our agenda.
Launched a cook book with recipes shared by colleagues from across the organisation explaining the importance and cultural significance of the dish to them and their family.
Working in partnership with external charities to boost social mobility by providing mentors for young people and giving their talents a platform to flourish and introducing them to the world of opportunities on offer in insurance.
Collaboration with the MMC Operating Companies to host Black History Month events.
Plans for the future
We are in the process of signing the Race at Work Charter and addressing the ethnicity pay gap.
To position Marsh as a Diversity & Inclusion leader in the industry by promoting best practice and collaborating with industry wide Diversity & Inclusion groups.
To attract, grow and retain the best talent to Marsh through our external partnerships.