Edward McKenna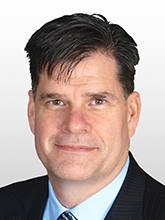 US Practice Leader, Marsh Advisory's Financial Risk Consulting Solutions
CURRENT RESPONSIBILITIES
Ed McKenna is the US leader of Marsh Advisory's Financial Risk Consulting Solutions, whose team of experts provide financial damages measurement including the quantification of property, business interruption, and financial crime losses, construction consulting and risk mitigation, and insurance valuations support.
Based out of the Chicago office, his responsibilities include supervising a staff of experienced professionals in the preparation and review of damages claims and insurance valuations where accounting expertise applies.

EXPERIENCE
Ed joined Marsh Advisory in 2000 as a consultant after Marsh's acquisition of Shore & Azimov. Ed focuses his practice on providing forensic accounting services in the measurement of damages, valuations, and financial investigations. The services are provided on both a national and international level and also involve deposition and expert witness testimony. Ed is involved in making presentations to various insurance businesses and professional groups on topics such as accounting records and analysis, business interruption values and loss, fraud investigation, accounting records and analysis, and other topics.

Since 1991, Ed has been involved in forensic accounting consulting and financial analysis. His special expertise is in the preparation and review of insurance loss claims and economic damages including those for business interruption, extra expense, inventory loss and valuation, employee defalcation, product liability, review of financial condition, third-party liability, and loss of income resulting from personal injury. Ed has experience working with both public and privately owned companies from a variety of industries, including oil & gas, power & utility, construction, financial services, manufacturing, retail, and wholesale.

Additionally, Ed has prepared, reviewed, and provided expert witness testimony in state and federal court on issues such as economic damages, commodities trading fraud, business valuation, and price discrimination. Ed's experience includes leading the insurance claim presentation, providing litigation support and analytical expertise for one of the largest losses in US history.

EDUCATION
•    BS in accounting, Northern Illinois University, DeKalb
AFFILIATIONS
•    Certified Public Accountant (CPA)
•    Certified in Financial Forensics (CFF)
•    Illinois Certified Public Accountant Society (ICPAS), Member
•    American Institute of CPAs (AICPA), Member