MarshCargo™ Digital Cargo Insurance Solution
Digital Cargo Insurance: Freight Market and Logistics Industry Solution

Digital technologies are fundamentally changing how businesses across all industries operate and serve their customers and cargo insurance is no exception. 
The launch of digital freight platforms and marketplaces by forwarders, ocean carriers, logistics and supply chain providers present an exciting new distribution channel for the cargo insurance product. Integrating cargo and logistics insurance products and solutions into the ecosystems of digital freight greatly enhances the customer service and purchasing experience.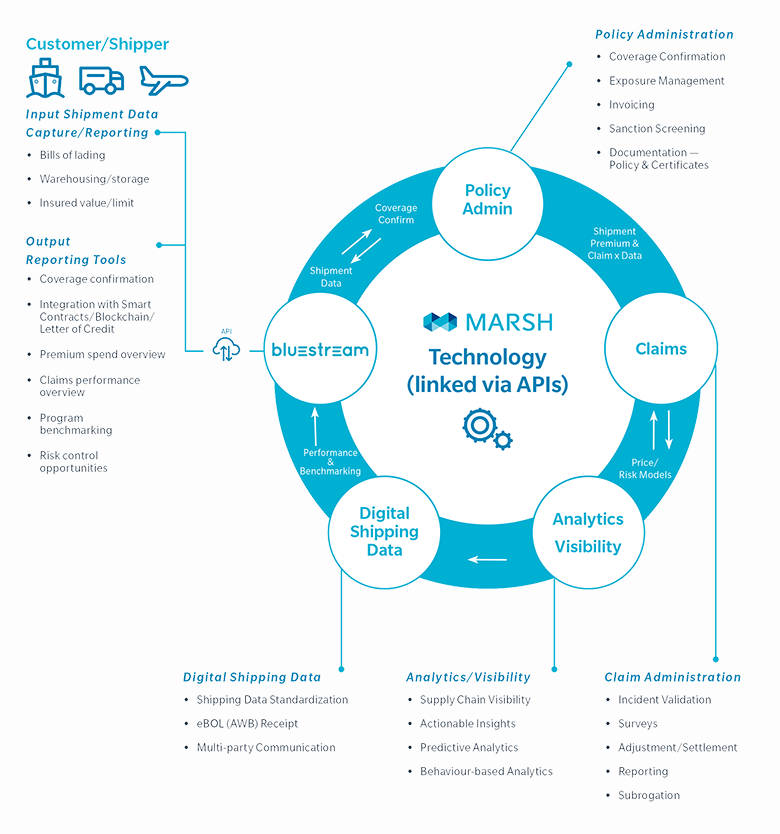 Marsh's Bluestream digital platform seamlessly integrates with clients' existing digital channels and user experience, and it will be open to and connect with the global insurance marketplace through application program interfaces (APIs). This will enable clients to easily choose and scale the insurance program that best meets the needs of their customers, contractors, or employees in each geography, while maintaining a consistent global experience. Bluestream will also provide clients with advanced reporting and analytics on their insurance programs, and access to emerging technology services such as blockchain and machine learning.
Integrate MarshCargo™ Into Your Daily Operations
MarshCargo™ delivers a true digital cargo insurance experience. In addition to our cloud based platform, MarshCargo™ offers a frictionless well-documented API with web services that integrate seamlessly with booking platforms, online market places and other systems used by Freight Forwarders (NVOCC), Third Party Logistics Providers (3PL's), Common Carriers (Ocean and Truck), Load Brokers and Shippers to quote and book shipments.
The MarshCargo™ full-stack system integration is designed to deliver an efficient and cost effective digital cargo insurance solution that empowers organizations to:
Keep pace with change

Outpace new competitors
Create a one-stop-shop experience
Provide full stack solutions
Enhance your revenue streams
Data Analytics and Increased Visibility
Supply Chain visibility and real-time cargo tracking are more important than ever. MarshCargo's data analytics and visibility capabilities support users in the efficient management of strategic, operative and financial risk via enabling real-time data-driven decision-making. 
Implementation and Support
Engineered for quick and easy adoption, MarshCargo™ system implementations are fully supported by Marsh's and Insurity's support services teams. Global help desk and implementation support services keep you covered 24 hours a day.
Risk Management
Online access to policy terms and conditions allows you to share information in real-time and efficiently manage your cargo risks.
Shipment information is validated, upon entry, for compliance with policy parameters, including vessel validation through Informa Vessel Database, allowing you to control your exposures and proactively adjust your insurance program to meet changing requirements.
Coverage can be customized to include special rates and/or conditions to accommodate specific commodities, customers or shipping routes.
Access is granted in conjunction with a security hierarchy that allows you to track results by division, department or individual.
Shipment and claims data is available online or as a download, allowing you to review and manage cargo volume, exposure and insurance cost.
Claims Management
Claims can be submitted on-line and tied to a specific shipment declaration, getting the process started quickly and ensuring that the right parties are put on notice.
Key documents, such as bills of lading, invoices and photos, are easily uploaded, reducing the claims administration process, and resulting in faster settlements.
Global settling agents can be put on notice in real time, getting quicker results for your over-seas operations.
Security
Industry standard Secure Sockets Layer Protocol (SSL) encryption technology (128 bit).
Unique User ID and passwords for all users – managed directly with the user.
Certificates generated in pdf format with unique encrypted security code, which makes files more difficult to alter or forge.
Certificate holders (banks, customers, surveyors, etc.) have the ability to verify the certificate's authenticity online.
Letter of Credit (LC) shipments can be entered with the exact LC wording.