Digital Shippers' Interest Insurance Solution
De-Risking and Empowering the Logistics and Supply Chain Industry. 
Download the Marsh Digital Shippers' Interest Insurance Solution Guide.   
The logistics and supply chain industry is undergoing significant changes to its business model, driven by technology, the sharing economy, regulations, and consumer demand. In this dynamic operating environment, successful logistics and supply chain providers must anticipate new delivery model demands, manage technology advances, and help shape the regulatory environment.  

Companies that anticipate and respond to changes in technology, market conditions, and labor will tend to have a higher success rate. Marsh can help you connect the dots by integrating a variety of digital insurance product offerings into your on-line ecommerce platform. These added value products will act as a one-stop shop for your ecommerce customers as they move through the check-out process. 
Marsh Shippers' Interest Insurance 
Companies operating in the logistics space — whether as shipper, carrier or intermediary — need risk protection strategies that reach beyond the role of conventional insurance. 

Through a well-structured Shippers' Interest offering, logistics and transportation clients have an opportunity to reduce claims impacting Protection & Indemnity and Cargo Legal Liability policies, which should in turn lower the cost of risk on those placements, moving the exposure to a cargo policy, which can be presented as a value added service to shippers. 

In the event of a claim, shippers benefit from the broader coverage that the cargo policy provides, and claims are settled more efficiently when customer relationships can be better maintained, and subrogation only to parties outside of the policy scope (i.e. third party carriers). 

Shippers' Interest coverage in many cases will be lower than the costs your customer can obtain through a traditional open cargo policy. In addition, your Shippers' Interest solution can address these special circumstances more effectively than your customer's cargo policy might be able to. 

Digital Sales & Distribution Channels
The ability to select and manage risk created by these new opportunties, along with changes to customer and community expectations will be critical to the success of your business.
Marsh Shippers' Interest by Bluestream: A Customer-Centric Logistics Insurance Solution 
Powered by our Bluestream and MarshCargo technologies— our customer-centric shippers' interest solution enables logistics and supply chain providers to provide their clients with an innovative digital experience to purchase cargo and parcel insurance that protects them from claims arising out of these shipments. 

By purchasing shippers' interest insurance on a per-shipment basis, users only pay for the coverage they need - allowing insurance costs to keep pace with growth. Transferring risk to your customers helps to isolate the exposure, and insulate other parts of your casualty program. 

Bluestream™ Digital Insurance Distribution Platform
Bluestream™ seamlessly integrates with clients' existing digital channels and user experience, which then connects with the global insurance marketplace through application program interfaces (APIs). 

Marsh Shippers' Interest by Bluestream™: A Customer-Centric Logistics Insurance Solution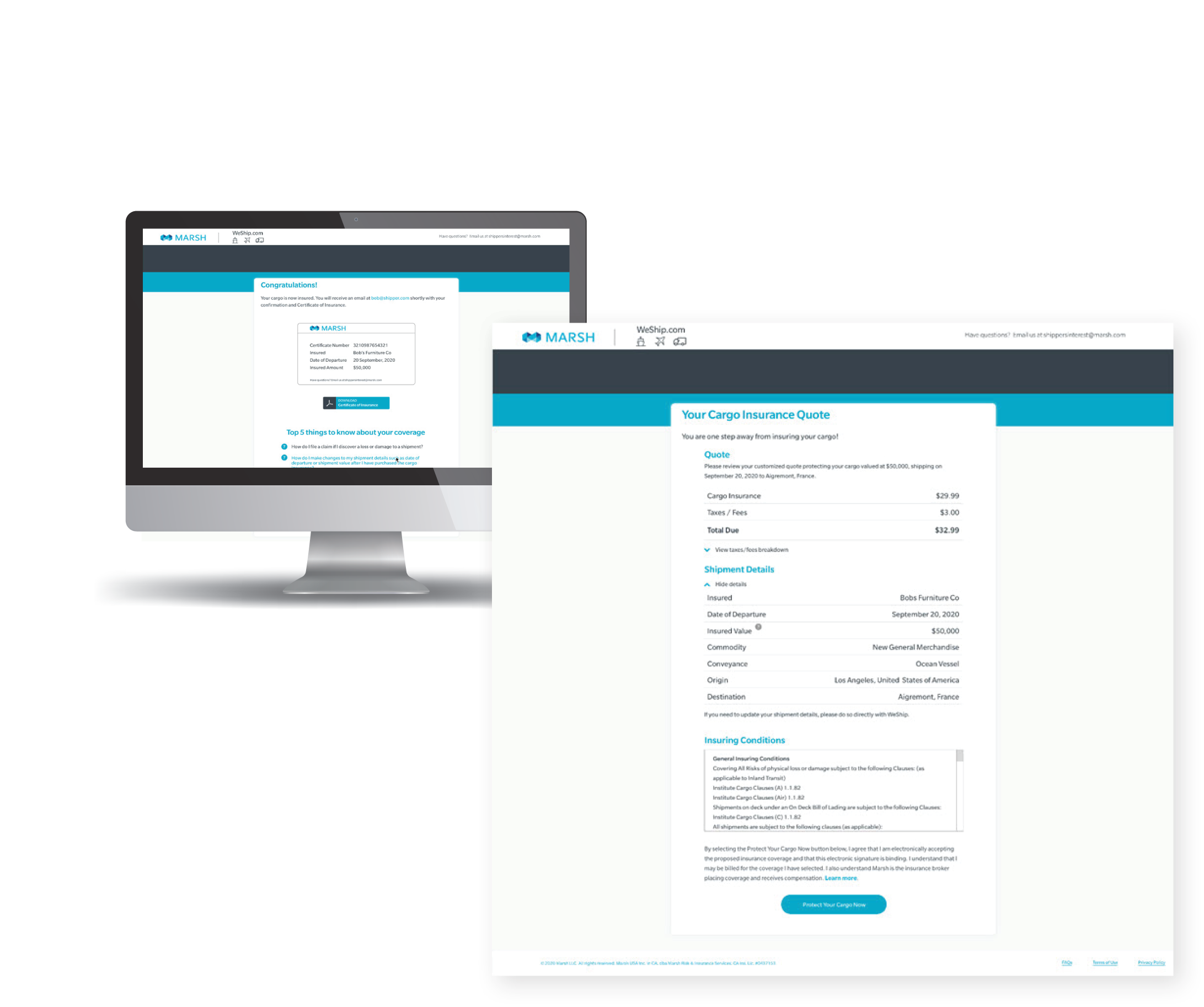 What You Get 
Above all, we will execute your program within a customer experience designed to protect your brand and increase third-party partner loyalty. Some benefits of working with Marsh include:  
Coordination with your logistics team at Marsh.  




A team experienced in logistics and supply chain models and risk mitigation.  




Expertise and ability to leverage behavioral data to develop rating models suited to challenging risk profiles.  




Digital insurance distribution for a seamless customer experience.  




Broker expertise and offline support, including dedicated program management and claims teams.