Marsh deliveryPRO: Usage-Based Last-Mile Delivery Risk Solution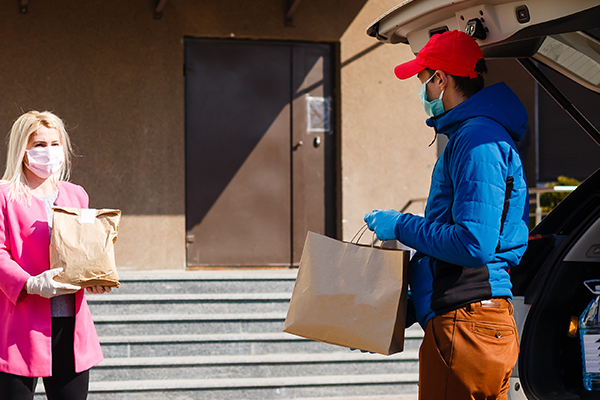 From produce and pizza to toiletries and toys, consumers are now relying on delivery from local restaurants and online retailers more than ever. While people haven't been moving as often lately, packages are. Even as we emerge from the current health crisis, with more companies extending work-from-home, the way businesses get their products to customers has changed.

Retailers have converted from in-person sales to on-demand deliveries virtually overnight.
Individually owned vehicles are often making these deliveries, rather than employer-owned vehicle fleets.
Employees, furloughed individuals, and independent "gig" workers are often behind the wheel. 
For safety and convenience, a shift toward last-mile delivery may become more permanent.
Marsh deliveryPRO offers a solution for managing last-mile delivery risk. It enables individual drivers — either employed or by contract — to deliver products to customers using their own vehicles, and protects them from claims arising out of these deliveries. With usage-based "price-by-mile" premiums, you only pay for the coverage you need — allowing your insurance costs to keep pace with your growth. This also helps to isolate the exposure, and insulate other parts of your casualty program.
Marsh deliveryPRO streamlines e-commerce with a more efficient usage-based insurance strategy for last-mile delivery operations.
It doesn't matter if the driver is delivering 10 pizzas or one. She could make one stop or eight. The delivery could be $250 in groceries or a $7 sandwich. The risk is priced by the miles driven, not the value of the delivery or the number of stops. This usage-based insurance model can help save retailers, restaurants, e-commerce companies, sharing-economy companies, delivery network companies, grocers and other businesses on their non-owned auto liability costs.
Marsh's Sharing Economy and Mobility Practice partnered with AXA XL to provide an exclusive usage-based commercial auto liability solution. The policy features bespoke language tailored to your delivery operations that clearly delineates where coverage starts and stops.
The policy acts as auto coverage when the driver is on an active delivery, as tracked by the deliveryPRO platform powered by mobility data and analytics company Arity or other existing technology. Premiums are based on the number of miles driven for the delivery.
Arity is a telematics company that analyzes data to improve company's insurance and shared mobility businesses with predictive risk insights.
Product Highlights:
Exclusive capacity with one of the AXA XL Insurance Companies
Usage-based "price-by-mile" coverage.

Bespoke policy language, tailored to your delivery operations that clearly marks where coverage begins and ends, and eliminates difficulty with personal lines insurance carriers.

Limits of $500,000 to $1 million available excess of a minimum $500,000 self-insured retention.

Drivers are included as named insured, to reduce friction during the claims process
Telematics from Arity, if no system currently exists to track mileage or report claims.

Pay-per-use claims support with VeriClaim, a division of Sedgwick, if no current existing relationship is in place.

A standalone auto program which provides greater market access for the rest of your liability program, including excess/umbrella liability.

Contact us to learn more.
James Rose
SVP, Sharing Economy and Mobility Group
james.rose@marsh.com

Rob Bauer
Sharing Economy and Mobility Practice Leader
rob.bauer@marsh.com

The information contained herein is intended for informational purposes only. Insurance coverage in any particular case will depend upon the type of policy in effect, the terms, conditions and exclusions in any such policy, and the facts of each unique situation. No representation is made that any specific insurance coverage would apply in the circumstances outlined herein. Please refer to the individual policy forms for specific coverage details.
AXA XL is a division of AXA Group providing products and services through three business groups: AXA XL Insurance, AXA XL Reinsurance and AXA XL Risk Consulting.  In the US, the AXA XL insurance companies are: AXA Insurance Company, Catlin Insurance Company, Inc., Greenwich Insurance Company, Indian Harbor Insurance Company, XL Insurance America, Inc., XL Specialty Insurance Company and T.H.E. Insurance Company. Not all of the insurers do business in all jurisdictions nor is coverage available in all jurisdictions. Information accurate as of June 2020.
AXA, the AXA and XL logos are trademarks of AXA SA or its affiliates. © 2020