Protect & Grow: Finding a balance between employee expectations & costs
With firms across the region continuing to experience revenue and cost volatility as their top-line revenues are squeezed, proactive leaders are seeking ways to adapt and manage their risks and costs.
One fundamental element for the success of any business is ensuring it has a skilled and dedicated workforce. However, managing and maintaining a company's human capital is not without its challenges, and with legislative changes impacting how employers recruit and support their employees, this is an area that can significantly impact a company's growth.
The HR Challenge
As the operating environment continues to evolve and impact the cost of doing business, firms are feeling the effects of managing operations. Human resource teams are feeling the consequences of cost containment on their employee strategies, particularly with regard to finding a balance between caring effectively for their employees and managing costs. The UAE and KSA already have compulsory healthcare and these countries bear witness to benefits becoming more expensive over time, as over-utilisation, over prescription, medical advancements, and the rise of chronic diseases lead to higher premiums. Other countries within the Middle East are expected to follow suit and introduce mandatory company-sponsored healthcare. It is assumed that these countries will likely experience similar challenges faced by the UAE and KSA.
Medical inflation across the region continues to outpace general inflation and this poses a significant concern for organisations. Medical insurance costs across the region have risen consistently, over the last few years. The cost of not being proactive is simply too high to pay. Some businesses simply can't afford these rising costs. Traditional cost containment measures can stem these increases in the short term but do little to influence colleague behaviours in the long term. Often these measures are perceived by colleagues as a detriment and can impact the retention and attraction of talent.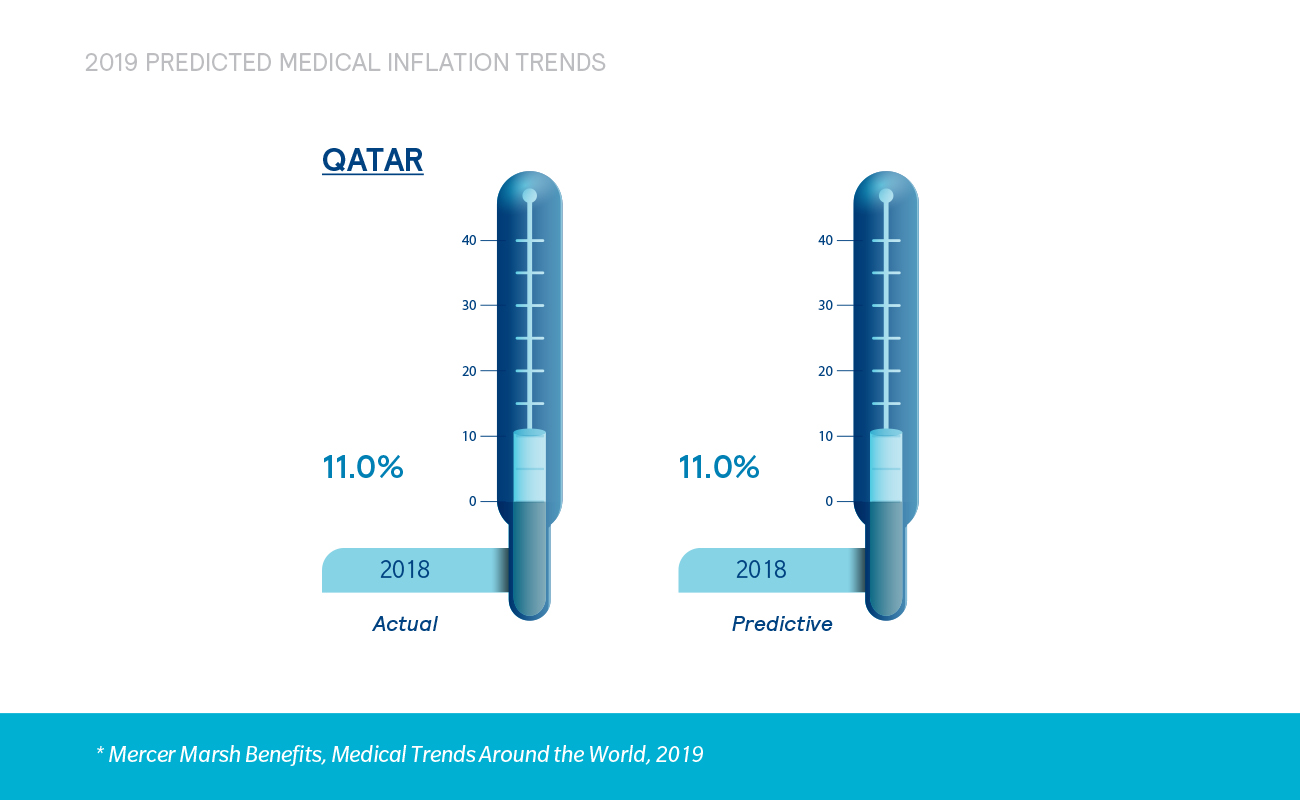 Tackling the challenges
There are steps that can be taken to mitigate the challenges that businesses encounter with their workforces:
Seek the right talent
Businesses need to ensure that their recruitment processes are strong and that their benefits are attractive in order to secure the right talent for their business. As we move into an evolving digital world, it is more important than ever to invest in attracting specific talent that has the skillset to operate now and in the future.
Retain your talent
Businesses need to engage with employees from a reward perspective to highlight the value of the benefits being delivered to them in order to maximise their longevity. Supplying choice to employees in the form of benefits that are tailored to their requirements is one of the many ways businesses are differentiating their benefits packages from those of their competitors.
Proactively manage  your benefit costs
 From a risk and insurance perspective, businesses need to find the balance between benefits that resonate with employees and the risk of increasing costs to the organisation, so that they're not seeing unsustainable increases year on year. Ultimately, the containment of rapidly growing costs of health benefits requires the development of a long-term strategy to ensure a balance between financial sustainability and employee satisfaction.
For more on managing costs and protecting growth, read our "The Top Ways to Protect Your Employees & Grow"