Working with Equity Investors - Transforming Risk Into a Competitive Advantage
For as much promise as infrastructure holds as an asset class, there is also an equal or greater amount of risk involved.
In a highly competitive market, apparent obstacles can be turned into competitive advantage through our unique approach to infrastructure risk. The advantage? A competitive edge, a stronger bid, swift decisions, better valuation, greater certainty over long-term risk issues, and increased confidence that no surprises will derail your investment.
De-Risking Your Investment
Your ability to identify, quantify, and manage risks—both insurable and uninsurable—will largely influence your potential to formulate a winning bid, and to provide the protections and return on investment demanded by your management team, investors, lenders, governing bodies, insurers, and the owner.
Risks inherent to infrastructure development are complex and have far-reaching consequences for investors that can adversely impact specific assets, valuations, capital structure, and volatility of cash flows needed to service fixed obligations, most notably interest payments and repayment of principal.
Investors and capital markets are heavily impacted by varied and divergent views of risk that influence perceptions of a potential investment.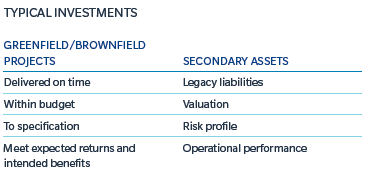 We are a Global Leader in Risk Management
From advising public entities to relationships with infrastructure funds, private equity investors, lenders and a commanding market share of design, engineering, and construction-related clients we have served as risk advisor and insurance broker on a broad range of large, complex, award-winning infrastructure and Public Private Partnerships (PPP/PFI) transactions around the world.
Marsh has been recognized by others in the industry as the leader in risk advisory services for infrastructure. For the fourth year in a row, Infrastructure Investor named Marsh Global Infrastructure Insurance House of the Year, as voted by industry professionals within the global infrastructure finance and investment community, consisting of investors, developers, lenders, and government sponsors from over 40 countries.
We serve as a strong and respected advisor for our clients' interests in managing risk throughout the life of a project, including contract negotiation and execution, design and build, operations, systems maintenance and refurbishment, public and/ or private financing, and purchase or sale transactions. We are also an advocate and intermediary for our clients in transferring risks in the insurance market.
We regularly advise our investor clients on a broad range of aspects of risk management. We:
Identify and price the risks inherent in an infrastructure project or asset.
Identify parameters for risk tolerance (at the project participant level and at the project level).
Provide expertise in the contractual risk allocation process.
Outline a project's risk profile to enable and facilitate access to capital.
Satisfy the unique requirements which will be imposed on project participants by governments, governmental agencies, and providers of capital.
Design and place insurance programs to address construction and operational requirements of infrastructure assets.
Provide ongoing risk consulting for infrastructure assets both in construction and operation to enhance operational efficiency of the asset.
Marsh and its sister companies Mercer, Oliver Wyman, and NERA Economic Consulting, are leaders in servicing the needs of the infrastructure community, providing risk-based, analytical and transactional support in the development and implementation of projects for infrastructure clients worldwide in the areas of:
Risk advisory and insurance transactional services.
Economics and regulation.
Human capital.
Investment analysis.
Marsh & McLennan Companies' Global Infrastructure Practice offers an experienced team that is dedicated to advising the infrastructure community throughout the lifecycle of a project or asset. Our expertise includes identifying opportunities and associated risks, mitigating risks, facilitating the successful completion of projects, managing through the operational phase and exit strategies spanning a wide range of industry groups, including:
Transportation: Airports, ports/terminals, roads, bridges, tunnels, freight, and passenger rail.
Energy: Oil and gas – upstream, downstream, transportation and storage, and metals/mining.
Utilities: Natural gas, electricity, water, and waste water.
Telecommunications: Broadcasting and/or wireless towers, and satellites.
Power generation: Carbon-based, nuclear, and renewable energy.
Social infrastructure: Hospitals, schools, and military housing.