Identify Damages, Evaluate and Assess Limits (IDEAL): D&O Statistical Analysis Model
Recognizing the exposure that directors and officers have to securities class-action litigation, Marsh Advisory's Risk Consulting Solutions offers a dynamic limit and retention decision-support tool that uses advanced frequency and severity analysis to help companies evaluate the structure of their directors and officers liability programs.
Support for insurance purchasing decisions
We provide decision-making support when evaluating publicly traded directors and officers liability insurance limits. It is built upon two databases:
S&P Capital IQ's database of 7,500 companies traded on the US national stock exchanges.
Advisen's database of more than 2,100 securities class-action settlements.
Who it's for
All US publicly traded companies, regardless of size or industry.
Companies that want to improve their decisions by making the most strategic use of a variety of data.
CFOs, treasurers, and other finance executives who want to thoroughly understand risk—including its volatility— and its implications for their organizations.
Risk managers who want to incorporate data and analysis into their insurance and risk management program strategies and budgeting.
What you get
Data-driven support to inform your decisions about risk management and insurance needs.
Analyses geared to your industry and your firm.
Support for negotiating positions in the insurance marketplace.
Using actuarial and statistical regression techniques, Marsh Advisory provides clients with a full distribution of securities class-action settlement amounts derived using client-specific independent variables, including market capitalization, industry, beta, trailing price/earnings ratio, and total assets. As a result, our clients are able to:
Quantitatively examine the susceptibility of securities class-action litigation.
Suggest hypothetical shareholder class-action settlement values based on specific client inputs.
Increase awareness of potential sources of claims.
Enhance knowledge of the directors and officers litigation environment, the primary driver of directors and officers rates.
Ideal Sample: Predictability
Marsh Advisory considers a range of inputs as it looks at questions, for example about the predictability of lawsuits: What is the probability that the company will face a securities class-action over the next 12 months?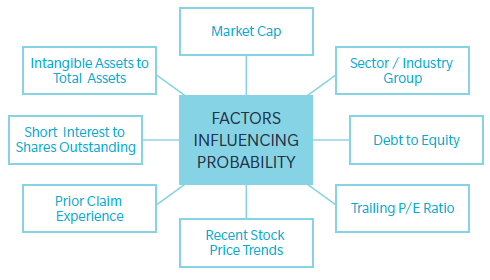 This chart is for illustrative purposes only and represents only a small piece of what an IDEAL analysis includes.
Marsh's FINPRO Practice
Marsh is the world's leading management liability broker, with a global network of more than 1,000 professionals. We offer a wide variety of consulting services around the issues our clients face, including claims advocacy, cyber risk liability, initial public offerings, corporate governance, and other areas of concern for our clients. Our client base ranges from the largest global companies to small, privately held companies in all industries.
Innovative Risk Solutions
IDEAL is recognized as a "Risk Innovator" by Risk & Insurance. IDEAL is most valuable when married with Marsh's full suite of analytical tools, developed to help clients make strategic, fact-based decisions. Our robust analytical tools, including our proprietary benchmarking and D&O risk profile, allow us to present strategic decision-making information in a clear and concise fashion and gives our clients confidence in their overall D&O insurance program design.